Eto'o plans to finish career in Anzhi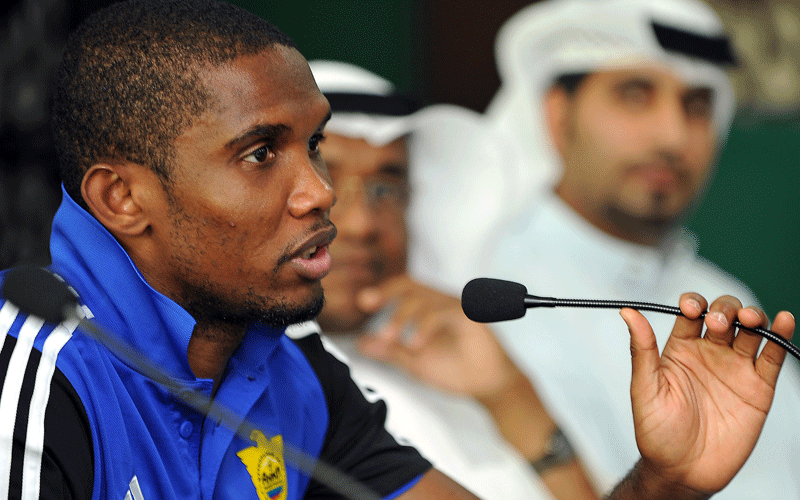 Cameroon international striker Samuel Eto'o has said he intends to stay at Russian Premiership club Anzhi Makhachkala until the end of his playing career.
"I've never thought about leaving Anzhi since I came here. Not a single second," the four-time African player of the year was quoted as saying by the club on Friday.
"Moreover, I'm intended to play with Anzhi until the end of my career."
Despite only arriving at the ambitious outfit in August last year, Eto'o has been repeatedly linked with a loan or transfer move away from Anzhi -- which is based in Dagestan, one of Russia's most impoverished and violent regions.
"I'm happy to play in Anzhi and I'm set to win something serious with my club. Maybe in the Champions League if we'll have enough luck. And I hope I'll be able to play five or six more years here before hanging up my boots."
The 30-year-old Eto'o, who joined Anzhi on a multi-million euro move, added that he had not yet been subject to any racist abuse in Russia.
"The problem of racism keeps many people on the alert but I have nothing to complain about," said Eto'o, who won UEFA Champions League medals with Barcelona and Inter Milan.
"I know that Roberto Carlos had certain problems before my arrival in Makhachkala but this problem did not affect me at all."
Despite the arrival of Brazilian veteran Carlos, Russian star Yuri Zhirkov and Eto'o, Anzhi enjoyed only moderate success in the first phase of this season, finishing seventh in the table well behind Saint Petersburg and the prominent Moscow teams.
Anzhi players live and train in Moscow for security reasons and only visit the Caspian Sea city Makhachkala for home matches.
Follow Emirates 24|7 on Google News.