Evra-Suarez reunion adds fuel to Man Utd-Liverpool rivalry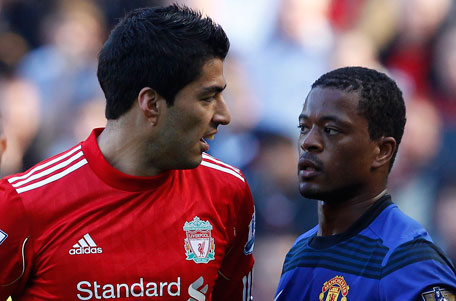 All eyes at Old Trafford on Saturday will be on Manchester United's Patrice Evra and Liverpool's Luis Suarez should the two players meet for the first time since a race row.
Uruguay forward Suarez was banned for eight games after being found guilty of racially abusing the United defender in a 1-1 draw at Anfield in October.
The incident stoked the bitter rivalry between the north-west giants, with Liverpool manager Kenny Dalglish -- who has continued to insist Suarez should never have been banned at all -- steadfast in support of the striker.
However, the clubs have met since October's clash, with Liverpool knocking United out of the FA Cup at Anfield last month, and Dalglish, who along with opposing manager Sir Alex Ferguson has called for calm, believes that tie has helped defuse tensions between the sides.
"Everyone involved, including the media, the supporters and both teams have a responsibility to ensure this weekend is remembered as a cracking game of football between two very good sides, rather than for anything else," Dalglish told Liverpool's website.
"I thought everyone involved in the FA Cup tie at Anfield played their part in making sure that the match was played in the right way, so let's make sure that happens again this weekend.
"I'm sure people will want to talk about Luis Suarez but he accepted his ban, served his suspension and returned against Spurs on Monday.
"It's time for all of us to draw a line under what happened and move forward.
"People are already speculating on the pre-match ceremony, but from Luis's point of view we have spoken to him and I know he will shake the hand of Patrice Evra and the other Manchester United players before the game."
The Suarez-Evra clash came in the same month as the incident that led to Chelsea captain John Terry facing criminal charges of racially abusing QPR's Anton Ferdinand, brother of United's Rio.
A concerned Ferguson told CNN: "This is a moment where we have to take stock and we should do something about it if it's surfacing again, and be really hard and firm on any form or shape of racism.
"There have been a couple of examples recently which is not good. In 2012, you can't believe it."
Reigning Premier League champions United go into the match two points behind leaders Manchester City and 16 ahead of Liverpool.
But for League Cup finalists Liverpool their Premier League goal this term is a top four finish that will guarantee Champions League football next season.
And given they are just four points behind fourth-placed Chelsea, that aim remains within their sights.
Last season United's record 19th English title took them one above Liverpool and Old Trafford veteran Ryan Giggs said even though the Anfield club were last crowned champions of England in 1990, they remained a key litmus test for Ferguson's side.
"We're the two most successful teams in the country, so we know we've got to perform and play well to get anything from any game against them.
"It's the club we tried to catch for so long and now we've caught them, the challenge is to stay ahead."
United, who came from three goals behind to draw 3-3 at Chelsea last time out could see promising midfielder Tom Cleverley come into contention for a first appearance since suffering an ankle problem in October, after being pulled out of Thursday's reserve match with City.
But Nemanja Vidic and Darren Fletcher are long-term absentees and goalkeeper Anders Lindegaard, who might have replaced the struggling David de Gea, is out for at least another three weeks.
Liverpool hope to have left-back Jose Enrique available after he missed Monday's goalless draw against Tottenham with a hamstring problem.
English Premier League top scorers ahead of the weekend's matches:
22: van Persie (Arsenal)
16: Ba (Newcastle)
15: Aguero (Manchester City), Rooney (Manchester United)
12: Dzeko (Manchester City), Yakubu (Blackburn)
10: Bale (Tottenham), Dempsey (Fulham)
9: Adebayor (Tottenham), Balotelli (Manchester City), Bent (Aston Villa), Fletcher (Wolverhampton), Lampard (Chelsea), Sturridge (Chelsea)
8: Chicharito (Manchester United), Defoe (Tottenham), Graham (Swansea City), Helguson (QPR), Morison (Norwich City)
7: Berbatov (Manchester United), Holt (Norwich City), Klasnic (Bolton), Sinclair (Swansea City), van der Vaart (Tottenham)
6: Bellamy (Liverpool), Crouch (Stoke City), Long (West Bromwich), Nani (Manchester United), Pilkington (Norwich City), Sessegnon (Sunderland), Welbeck (Manchester United), Zamora (QPR)
5: Agbonlahor (Aston Villa), Arteta (Arsenal), Johnson (Manchester City), Larsson (Sunderland), Mata (Chelsea), Silva (Manchester City), Suárez (Liverpool), Walters (Stoke City)
Follow Emirates 24|7 on Google News.