Ex-NFL star in drugs, rape shame rap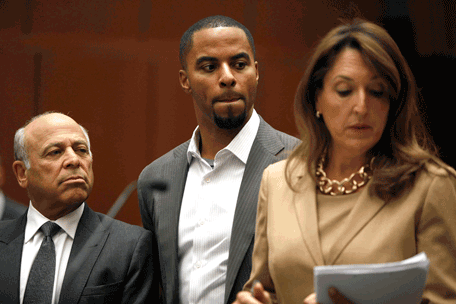 Former National Football League star Darren Sharper was charged Friday with drugging and raping two women he met in a California nightclub, accusations similar to those he faces in three other US states.
The 38-year-old, who won a Super Bowl with the New Orleans Saints in 2010 but retired later that year after 14 NFL seasons, appeared briefly in court but remains free on $200,000 bail.
Los Angeles Superior Court Judge Roberto Longoria ordered Sharper, who was arrested on January 17, to surrender his passport, keep away from a Hollywood nightclub where he allegedly met his victims and stay in an Los Angeles hotel.
If convicted on all charges, he could face more than 30 years in jail, prosecutors said.
Sharper is accused of raping a woman he met at the Bootsy Bellows nightclub in West Hollywood last October 30, and another victim he met at the same club in January, allegedly using the sleep medication zolpidem.
Prosecutors sought to have his bail increased to $10 million due to allegations that he "committed several offenses against multiple victims in numerous jurisdictions." The judge did not rule on that request.
As well as the alleged incidents in Hollywood, he is accused of similar crimes in New Orleans, Las Vegas and Arizona between last September and last month, according to court documents.
Sharper is due in court again Thursday to be arraigned on two counts of rape by using drugs, four counts of providing drugs and one of possessing drugs.
His lawyer, Blair Berk, voiced confidence that Sharper will not be convicted.
"We look forward to the true facts being revealed in this case and we are hopeful that Mr Sharper will be fully exonerated before this case is concluded," the attorney said after Friday's court appearance.
Sharper played for the Green Bay Packers from 1997 through 2004, the Minnesota Vikings from 2005 through 2008 and the Saints for his final two seasons.
Follow Emirates 24|7 on Google News.