FA launches 150th anniversary celebrations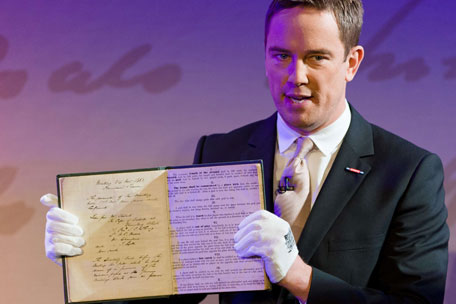 The Football Association kicked off its 150th anniversary celebrations with a glamorous reception in London on Wednesday, as it looks to repair damaged relationships with Fifa and UEFA.

The original laws of football were drafted in England in 1863 but the game's birthplace seemed alarmingly alienated from the modern sport when it received just two votes in the bidding process for the 2018 World Cup.

However, FA chairman David Bernstein has since worked tirelessly to restore the organisation's standing and he claimed a coup by securing the right for Wembley to host this season's Champions League final in May.

The goodwill towards English football was highlighted at London's Grand Connaught Rooms, which hosted Wednesday's launch ceremony.

It was chosen as the venue because it stands on the site of the Freemason's Tavern, where solicitor Ebenezer Morley first met with colleagues to write down the original 13 rules of football and form the first Football Association.

Guests including former England manager Fabio Capello and France greats Marcel Desailly and Patrick Vieira were among a 400-strong audience, along with Bobby Charlton and members of England's 1966 World Cup-winning team.

There were also video messages from Prince William, David Beckham, Jose Mourinho and Alex Ferguson, as well as UEFA president Michel Platini and his Fifa counterpart Sepp Blatter.

The focus was on the FA's grassroots work as a not-for-profit organisation that pumps £100 million ($160 million, 120 million euros) a year into the game, backed by 400,000 volunteers, 300,000 coaches and 27,000 referees.

"I'm hoping one of the things that come from this is a real perception from the wider world of the work that the FA does, what the FA really is about," said Bernstein afterwards.

"I just don't think really the FA has had a fair deal. There is such an emphasis on the high-profile issues; one-off issues and disciplinary things.

"But today we've heard from so many people on the great work the FA does. It really is a fantastic organisation."

Bernstein, who is due to leave his post in July, hopes England's worldwide image will be improved yet further in a year in which they are due to play Brazil home and away, as well as anniversary games against Scotland and Ireland.

It may still be a long time before England can win enough votes to stage a World Cup, but Bernstein has his sights set on Euro 2020, which European governing body UEFA plans to split between several countries.

"Will we ever stage a World Cup? Well, ever is a long while - maybe somewhere between now and ever," he admitted.

"But we are concentrating on 2020 and seeing what we can get here for those Euros. We will certainly be bidding for some part of it."

On the field, England are making decent progress in their World Cup qualifying group under manager Roy Hodgson, who is confident his team can make an impact in Brazil next year if they qualify.

"The first thing we have to do is qualify for the World Cup - that's vitally important," he said.

"And when we qualify, we have to give a good account of ourselves in Brazil and once you are there, you have a chance of winning it. Who knows?"

Arsenal manager Arsene Wenger also added his own personal appeal for the sport's international community to warm their approach to the birthplace of football.

"I personally feel very grateful to the FA because football is the love affair of my life and England has created football," he said.

"This is a good opportunity to thank England for that because I think sometimes football in the world forgets that."







Follow Emirates 24|7 on Google News.