Fergie rues penalty call after Spurs hold Man Utd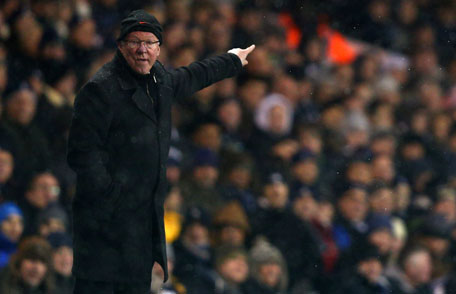 Alex Ferguson was left to fume at a match official after Manchester United were denied a penalty in a 1-1 draw at Tottenham Hotspur that breathed new life into the Premier League title race.

Bidding to re-establish a seven-point lead over second-place Manchester City, United saw their advantage restricted to five points when Clint Dempsey lashed in a stoppage-time equaliser amid steadily descending snow at White Hart Lane.

Dempsey's intervention deprived United of what would have been a very welcome victory, given the barrage of attempts at goal that the visiting defence had to weather in the second half of Sunday's game.

Ferguson, though, reserved his ire for assistant referee Simon Beck, who kept his flag down despite Steven Caulker appearing to trip United substitute Wayne Rooney inside the Spurs 18-yard box in the 63rd minute.

Beck previously found himself the target of Ferguson's anger after failing to flag when Didier Drogba scored a winning goal for Chelsea at Old Trafford in April 2010, and the United manager's reaction proved he had not forgotten.

"It was a clear penalty kick on Wayne Rooney, but in no way was the the linesman going to give that," Ferguson told the BBC.

"He gave them everything else. We have not had a good record with this linesman - against Chelsea a few years ago he gave onside to Didier Drogba, who was three yards offside. You remember those things."

United were far from their best but looked poised to claim a smash-and-grab win through Robin van Persie's 25th-minute header until Dempsey swept home in the 93rd minute after United goalkeeper David de Gea failed to get enough distance on a punch.

"They pumped the ball forward, maybe David De Gea could have got a better punch on it, but I will have to see it again," said Ferguson.

FA Cup commitments mean United do not have a league game until they host Southampton on January 30, but Ferguson said his side could take heart from the difficult away games that are already behind them.

"If you look at our away programme, we have been to Everton, been to Liverpool, to Manchester City, to Tottenham," he said.

"We have been to all the top teams away from home."

Spurs manager Andre Villas-Boas has seen his side take four points from United this season, after a 3-2 win at Old Trafford in September, and he said he hoped the penalty incident would not over-shadow his side's performance.

"It's obviously going to be debated and debated, but I hope it doesn't mar the game," he told reporters.

"I think during the game, we got most of the decisions against us. A penalty is a penalty, but I prefer to look at the game from my view.

"We had 61 percent of possession against a team like United and they had four chances. We take our boost of confidence from that."

Despite the jubilation sparked by Dempsey's last-gasp strike, Villas-Boas says it will count for nothing if Spurs do not maintain momentum in their push for Champions League qualification.

"The point only counts if we continue our run of form in our next games against Norwich and West Brom," he said.

"Credit to the boys for the way they've embraced this season and for how much they want this Champions League qualification."

Emmanuel Adebayor's departure for the Africa Cup of Nations with Togo has left Villas-Boas with Jermain Defoe as his only senior striker, but he said he was cautious about entering the transfer market.

"We don't think Adebayor will have so much time away, so we don't need to go into the market to buy a striker, but that doesn't mean that nothing can happen," he said.


Follow Emirates 24|7 on Google News.