Fergie wants more from derby hero Rooney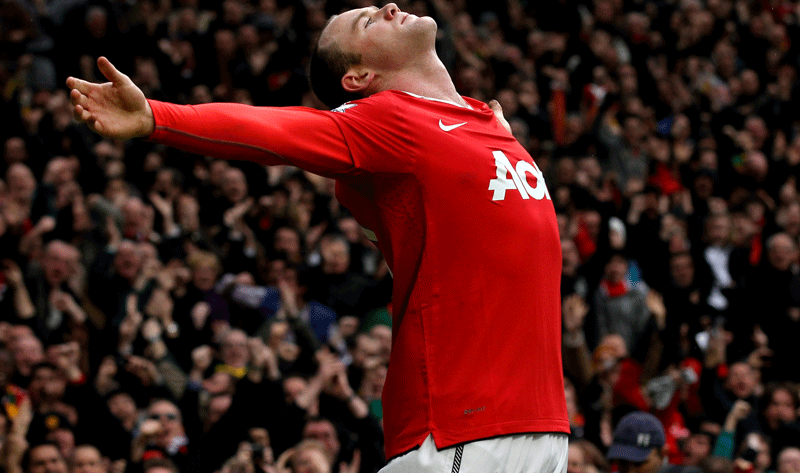 Sir Alex Ferguson described Wayne Rooney's winning goal in the Manchester derby as the best he had ever seen, but the United manager still wants more from his star striker.
Rooney, so disappointing for much of this season, scored for just the fifth time in the league as his stunning overhead kick from Nani's cross secured a crucial 2-1 victory over Manchester City at Old Trafford on Saturday.
"I haven't seen anything like it, that's for sure," Ferguson said. "It reminded me of Denis Law although whether Denis ever put them in with such ferocity, I'm not so sure.
"I can't ever remember a better goal at Old Trafford. There was a Rooney volley against Newcastle I remember a few years ago with that kind of ferocity and we have had some fantastic goals here."
However, Ferguson, whose side are four points ahead of second-placed Arsenal, still believes he should be getting more from Rooney and Dimitar Berbatov, currently the Premier League's leading goalscorer but left out of the starting line-up for the derby.
"I hope that is Wayne back to his best," said Ferguson. "I have to say, what I need to get out of Wayne and Berbatov are performances away from home that are as good as they are at home.
"That is the quandary. With the quality those two have, we should be dictating games away from home. When they do that, it will make a hell of a difference."
Nani had given United the lead, against the run of play, late in the first half with a very well-taken effort of his own - although it was nothing in comparison to Rooney's 78th minute winner.
"The thing is Nani's goal will be completely forgotten!" added Ferguson.
"That was a fantastic goal - an unbelievable touch, he took it round the defender, but nobody in their right mind would even talk about that. All the talk will be about that winning goal. Unbelievable."
City enjoyed control of large periods of the game and, after a lucky second half equaliser when Edin Dzeko's shot deflected off the back of David Silva, looked potential winners.
Defeat, in contrast, leaves City eight points behind United, who have a game in hand, and Rooney had no doubts as to where the winning goal belonged in the context of his career.
"Yes, I think that's the best goal of my life. I scored an overhead kick at school but that's my first since I started playing professionally," he said.
"I think it's pure instinct. You don't have time to think about what you're going to do. Nine times out of ten it hits the bar or goes wide but thankfully this one hit the top corner.
"To score that goal, and see the joy on the faces of the crowd, the manager, the players ... it's fantastic.
"To be honest, I was disappointed with my overall performance but I spoke with a few lads and they told me to stay up in the area and I'd get my chance.
"I've played in derbies before so I know it's a massive game for the whole city, especially with City being so close.
"And after dropping three points last week it was vital we won and kept the gap between us and City."
City manager Roberto Mancini sounded resigned to handing United the title although he paid tribute to the performance of his losing team.
"We were beaten by a moment of pure genius," he said. "Only a fantastic goal could decide this game. A fair result would have been a draw.
"We played well, we played as a team and we played strong here which is not easy. But United have a strong mentality and even when they don't deserve to win a game they believe they do.
"Our mentality will change when we win a title. But eight points is too much at the moment."
Follow Emirates 24|7 on Google News.