Ferguson warns against Ronaldo fixation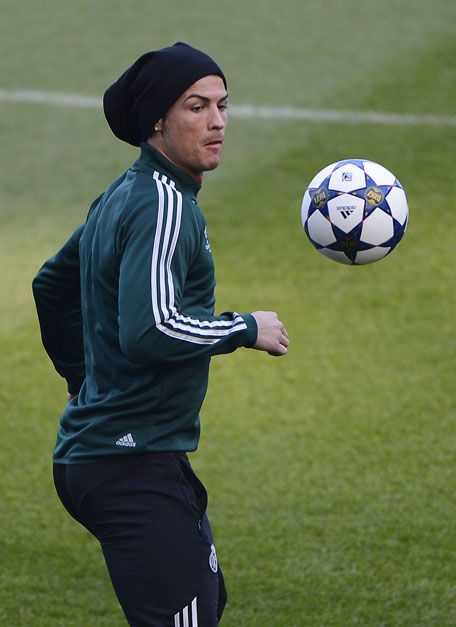 Manchester United must not obsess themselves with trying to stop Cristiano Ronaldo when he returns to Old Trafford with Real Madrid on Tuesday, manager Alex Ferguson has warned.

Ronaldo spent six seasons with United after signing from Sporting Lisbon, scoring 117 goals in 290 games and blossoming into one of the finest players in world football before leaving to join Madrid in the 2009 close-season.

Since arriving in the Spanish capital he has become even more prolific, finding the net 185 times in 184 games, but Ferguson says the second leg of the Champions League last 16 tie will not be decided by Ronaldo alone.

Asked if he was concerned about Madrid's number seven drawing inspiration from the reception he receives at Old Trafford, the United manager quipped: "The biggest concern is if he turns up!

"You know what to expect against a team with Ronaldo in and we have to try and curtail that. It won't be easy because he does it every week. It's not an accident with the lad.

"The experience Rafael (da Silva) had in the first leg will hopefully help him because he'll be given the same task again.

"We can't go in worrying about the damage he might do to us, because we might forget about the damage we can do ourselves."

It is 10 years since another famous Ronaldo, the great Brazilian striker, came to Old Trafford with Real Madrid and produced a performance that condemned United to elimination from the Champions League.

The two-time Ballon d'Or-winner netted a hat-trick in a 4-3 second-leg defeat that took Madrid into the semi-finals in 2003 and was afforded the rare privilege of a standing ovation from United's fans.

Cristiano Ronaldo will hope for a similar outcome on Tuesday evening, but Ferguson says the Portuguese forward is a very different player to his Brazilian namesake.

"The older one, the fatter one, he was at his peak at that time as a centre-forward," Ferguson said.

"(Cristiano) Ronaldo is a supreme athlete, an unbelievable athlete. He never misses a game, has a fantastic physique, pace, great feet, he's great in the air. They're different types of player.

"Our big worry isn't what happened 10 years ago, but what's going to happen tomorrow (Tuesday)."

Ronaldo admits he is excited about returning to his former stomping ground.

Writing on his Instagram account, he said: "I'm looking forward to return to Old Trafford. I've so many good memories there. It will be an exciting game and our goal is to win."

Madrid manager Jose Mourinho praised his countryman for his achievements in English football, which included victory with United in the Champions League and individual success in the Ballon d'Or voting in 2008.

"Any accolades he gets are more than deserved and the reception he gets tomorrow night will be well deserved," he said.

"I was here when he was playing in the Premier League and I'm aware of how well he did and what an impact he had at the club."

Madrid midfielder Xabi Alonso dismissed suggestions his team-mate might allow himself to be over-awed by the occasion.

"Of course he's looking forward to playing United," said the former Liverpool man.

"Before the game he will have a great reception, but once kick-off comes, all the feelings will be forgotten and he'll just be thinking about giving the best for our team."
Follow Emirates 24|7 on Google News.