Fifa, football in 'bad condition' - Beckenbauer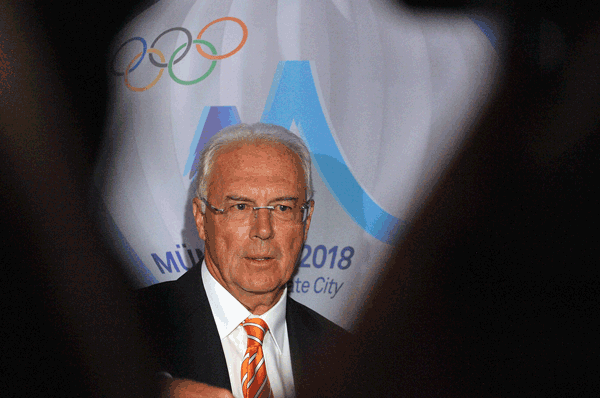 Fifa and world football is "in a bad condition" because of allegations of corruption against the game's top officials, German great Franz Beckenbauer said on Tuesday.
But the World Cup-winning player and coach said that rumours and unproven accusations are also damaging the reputation of the sport.
In South Africa to back Munich's bid for the 2018 Winter Olympics, Beckenbauer said the state of the world's most popular game was worrying after a string of top officials were implicated in corruption scandals.
"I think Fifa now and football in general is in a bad condition because of all these rumours," Beckenbauer said. "It has hurt football, (and) it shouldn't be."
Corruption has dogged world football's top body recently — leading to questions over whether the problem is widespread in the game — but Beckenbauer also said evidence of wrongdoing must be obtained against those accused.
"You can say he is guilty or he is guilty, it is just speculation, a lot of rumours," the former Fifa executive committee member said. "There is no evidence. For me, where are the evidences?"

Fifa could learn from the International Olympic Committee, Beckenbauer said, after allegations of wrongdoing in World Cup votes for the 2018 and 2022 tournaments, which were won by Russia and Qatar respectively.
The Olympic body has always allowed its entire membership to vote on host cities for the games, and made sweeping reforms after a corruption scandal stemming from Salt Lake City's winning bid for the 2002 Winter Olympics.
The World Cup host country is decided by Fifa's exclusive executive committee, which has recently been badly tarnished by corruption allegations.
Fifa President Sepp Blatter said after his re-election last month that he would propose changing to an IOC-style model of having the hosts selected by the full membership.
"Why not?" Beckenbauer said. "Try the other way. I think everybody has the right to be part of the decision not only 24 people (on the executive committee)."
"I think it's not a bad idea the example the IOC gives, it's a good idea for Fifa."
Beckenbauer made a late trip to Durban to back his home city's campaign to stage the 2018 Winter Games and become the first to host a Summer and Winter Olympics.
Munich's bid team sees Beckenbauer's presence as a key part of its late push to beat out favorite Pyeongchang of South Korea and Annecy of France.
The winner will be decided by a vote of nearly 100 IOC members on Wednesday, the 11th anniversary — to the day — of Germany's successful bid for the 2006 World Cup under bid leader Beckenbauer.
"We had the example five years ago with the World Cup in 2006, it was fantastic," Beckenbauer said Tuesday. "The atmosphere was great, everybody, the whole world was dancing and moving and celebrating the World Cup.
"During that time we called it the summer dream and now we are looking forward to having the 2018 winter dream."
Beckenbauer also advised Munich's bid team to relax and not put too much pressure on IOC voters.
"Just be nice, be friendly because they (the IOC) know exactly what you are doing here."

Follow Emirates 24|7 on Google News.