French World Cup rebels 'little brats' - Domenech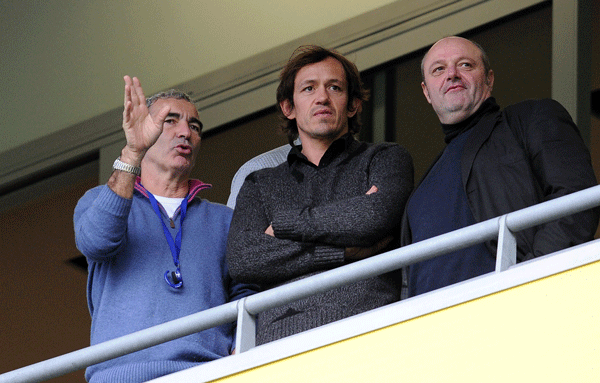 Raymond Domenech on Wednesday reopened the sore of France's calamitous World Cup campaign by labelling the players who orchestrated the infamous training boycott in South Africa as "irresponsible little brats".
The sacked French coach made the comment in an interview with French newspaper L'Express.
In it he reflected on the damaging events that took place in South Africa last year that brought French football to its knees.
In particular Domenech gave his views on the decision by his team to refuse to take part in an open training session at their 2010 World Cup base in Knysna in protest at his decision to expel Nicolas Anelka.
The Chelsea striker was sent home after a foul-mouthed tirade at Domenech at half-time in France's 2-0 group defeat to Mexico.
Asked if he had been aware of the identity of the ringleaders of the strike he replied: "If there were (ringleaders) I didn't see them.
"Each time I climbed (back into the team bus) there was no one there, at that moment I said to myself that they'd gone mad and didn't appreciate what they were doing.
"Now, I know that I was wrong, they knew only too well what they were doing. They had even closed the curtains on the bus to hide from the cameras.
"Looking back now I regard this group as irresponsible little brats."
He then turned to his decision to read out the statement from the players explaining their reasons for staging the protest to the waiting press.
"We'd been there for over an hour. Someone had to step up and take responsibility and finish this masquerade.
"All the cameras were trained on the bus, several hundred kids were waiting beside the pitch. We were the laughing stock of the world.
"I said: 'That's it, I can't take any more, no one wants to read this thing! I'll do it'. If I'd reflected for two seconds longer I would have left."
The French Football Federation punished those they held responsible for the boycott.
France captain Patrice Evra, vice-captain Franck Ribery, and Jeremy Toulalan were given bans of five matches, three matches and one match respectively.
Anelka was banned for 18 matches.
Domench himself was sacked from the FFF for "serious errors" - for not shaking the hand of South Africa coach Parreira after France's last match against South Africa; for not informing (former) FFF president Jean-Pierre Escalettes of insults to which he was subjected by France forward Nicolas Anelka;, and for having read out the statement written by striking players on June 20.
Explaining why he had decided to speak out Domenech told the paper: "Everyone was speaking for me. I wanted to reestablish the truth as I saw it. I am not the moron that's been depicted."
In November Domenech made his comeback at the helm of an under 11s team from a Paris suburb., explaining at the time: "I need to breathe, to reconstruct myself. I spent six years in a difficult job. A page has been turned and I want to enjoy myself."
Tackled again on what lies ahead for him he told L'Express: "I still need to erase certain memories before being able to start off on a new adventure.
"It's like in love: you have to be able to forget a woman before loving another."
Domenech is suing his former employers at the FFF for 2.9 million euros in damages with an initial hearing in the courts scheduled for April 14.
Since the World Cup France's fortunes have undergone a renaissance under new coach Laurent Blanc, beating Brazil 1-0 last week in a friendly at the Stade de France to extend their winning run to five.
Follow Emirates 24|7 on Google News.