Germany's Puma ousts Nike as Arsenal kit supplier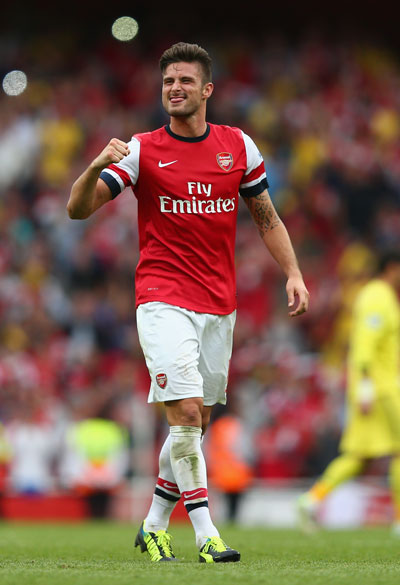 German sportswear company Puma will become the kit supplier to English soccer club Arsenal from next season in a deal worth more than 30 million pounds ($50 million) a year to the Premier League leaders.

Puma has ousted US group Nike which has provided Arsenal's red and white shirts for the past two decades.

The deal with Arsenal shows Puma's determination to re-establish itself as a core sports brand under new CEO Bjoern Gulden after moving more into lifestyle and fashion.

"Arsenal represents a major commercial and marketing opportunity to reinforce Puma's credibility as a global sports brand," Gulden said.

The Gunners are understood to receive around £30 million ($49m, 36m euro) a year from main sponsors Emirates Airlines, and while no financial details were given, reports have indicated the new deal will be for a similar amount when Puma replace US-based rivals Nike, who have been the London club's kit provider since 1994.
"We are excited to be partnering with Puma, a company whose football heritage and record of innovation have a strong affinity with our own," said Arsenal chief executive Ivan Gazidis.
"This represents another important step forward in Arsenal's progression on and off the pitch."
Puma chief executive Bjorn Gulden added: "Arsenal have been a key strategic target for Puma for a number of years now."
Puma, for decades one of the world's leading manufacturers of football boots, also have deals in place with current Arsenal striker Olivier Giroud and former Gunners favourite Cesc Fabregas, now at Barcelona, as well as the Italian football federation and leading German club Borussia Dortmund.

Puma, majority owned by French luxury goods company Kering , warned in November that 2013 net profit would fall far below the 70 million euro ($96 million) figure in 2012.

Gulden denied that Puma had overspent to win the Arsenal deal.

"Our analysis shows this is a good deal for us," he told Reuters. "We are convinced that this is the best deal that we could do. It's the team that fits us, it's a good commercial deal and will bring a lot for our image."

GLOBAL MERCHANDISE

Puma has also acquired the rights to produce other branded Arsenal merchandise that will be sold to fans around the world.

Financial details were not disclosed but Puma said the deal was the biggest ever for both itself and Arsenal.

In 2012, Arsenal signed a contract renewal with airlines Emirates for shirt and stadium sponsorship worth 150 million pounds over five years.

Arsenal CEO Ivan Gazidis said the club had held talks with several sportswear companies before choosing Puma.

"They are a substantial company with the kind of scale that a club like Arsenal needs as we reach out to our global fan base," he told Reuters.

Arsenal were also impressed by Puma's focus on the club rather than juggling several big name partnerships.

"We'll be one of their primary partners," Gazidis said. He also told the news conference that the club expected manager Arsene Wenger to stay on at the club.

The Puma deal is no surprise after news of it leaked on social media late last year. However, Arsenal fans are likely to press the club to spend heavily before the player transfer window closes at the end of the month to boost the team's push for a first trophy since 2005.

Nike remain the kit suppliers to Manchester United and Manchester City.

The Nike deal was worth 38 million pounds for United in 2012-13, including the club's share of profits from merchandise sales. United and Nike are in negotiations on a new deal.
Follow Emirates 24|7 on Google News.