Gulf nations want Australia out of Asia - AFC chief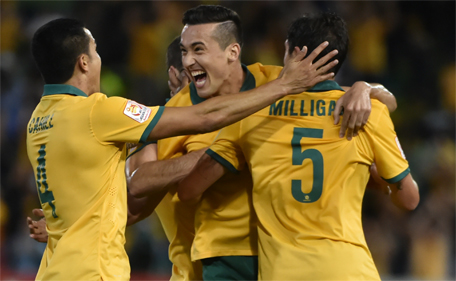 Asia's football chief has admitted there is groundswell of opinion in the west of the continent that Australia's membership of the confederation has not worked out and they should be kicked out.

Australia will play South Korea for the Asian Cup on Saturday after what is widely regarded as a successful hosting of the tournament, the second time they have reached the final in three attempts since switching from Oceania in 2006.

Asian Football Confederation (AFC) President Salman Bin Ibrahim Al Khalifa, in an interview with UAE newspaper Al-Ittihad, said there was a desire by Gulf Arab federations to review Australia's membership.

"Yes, it is true, there are indications that confirm that there is a desire among West Asian federations to remove Australia from the AFC," he told the paper on Wednesday.

"But I also know that the Arabs are not the only ones that are not convinced with the value of Australia staying within the Asian football family."

Critics of Australia's move to Asia, a switch aimed at securing more competitive football and an easier route to the World Cup finals, say the benefits have been all one way.

The Socceroos have reached the last two World Cup finals through Asian qualifying, while the Arabian Gulf, which had one team in soccer's showpiece event from 1990 to 2006, was not represented in South Africa or Brazil.

Asia has four automatic qualifying spots for the World Cup with a fifth country getting a shot at the finals through an intercontinental playoff.

Respect

Bahraini Al Khalifa, who took over the AFC in 2013, said no mechanism had been put in place to review Australia's membership when it was agreed in 2005.

"The decision to include Australia was taken many years ago, before I became head of the AFC," he added.

"There are several Asian federations that see that it is necessary for Australia to leave the AFC, and for the AFC to cut all ties with Australia, but we can't just base any decision on opinions.

"Any decision about Australia's membership will have to come from the general assembly."

Al Khalifa released a statement on Friday saying Australia had earned its place in Asia by "working diligently" and contributing to the confederation at all levels.

"This effort includes development work among AFC member associations, administration through the various AFC committees and economic benefits through the commercialisation of AFC's broadcast rights in Australia," it read.

"The AFC Asian Cup Australia 2015 has been a wonderful showcase for Asian football.

"Australia is a full member of AFC like any other and the relationship with its fellow member associations can only grow stronger in the years ahead."

Australia coach Ange Postecoglou was reluctant to comment on the reports but said he had experienced nothing but mutual respect and welcome from other countries in Asia.

Speaking at his pre-final news conference, Postecoglou said the whole of Asian football should be united in working towards one of their number winning "the biggest prize of all".

"From our perspective, our goal is to continually, hopefully, raise standards in this region," he told reporters.

"The goal collectively should be for an Asian country to win the World Cup. We've got to break European-South American cycle.

"And that's only going to happen if there's real mutual respect amongst all the countries here to keep improving the football."
Follow Emirates 24|7 on Google News.