Gullit arrives on Chechen mission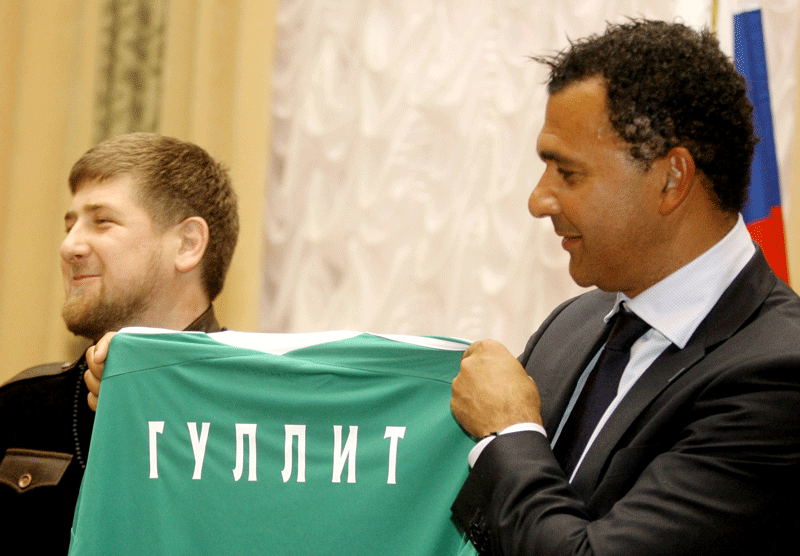 Dutch football legend Ruud Gullit landed in the Chechen capital on Wednesday to the cheers of hundreds of Terek Grozny supporters, promising to make his new side the next darling of Europe.
The two-time world footballer of the year draped a green Chechen republic scarf around his neck and smiled broadly as fans chanted his name and performed traditional Caucasus dances around the football icon.
"I have already had a chance to work at the club and now I know - it has no weaknesses," the Sport Express website quoted Gullit as saying on landing.
"These are good football players who you can work with and achieve your goals."
Gullit last month admitted being "stunned" to be named the manager of a squad that only returned to Grozny in 2008 after a 15-year absence caused by two brutal wars.
But the small Caucasus side with only one Russian Cup to its credit has secured a place in the Russian premier league and is now hoping to ride Gullit's coattails to success in European competition.
The former Dutch team captain met the republic's authoritarian leader Ramzan Kadyrov - an avid sports fan who personally lured Gullit to Chechnya - and took a brief tour of a city that remains tense.
Kadyrov praised Gullit for being a "real man" who knew no fear and was not worried by Chechnya's dubious security reputation.
"Men should never be afraid of a thing. A man only knows fear when he loses his honour and dignity," the chief of Chechnya told Sport Express.
"He has made a decision and that shows that he is a real man," said Kadyrov.
Terek Grozny was formed in 1958 but then simply vanished when war came to Chechnya in the 1990s and did not play again until 2001.
It finished in 12th place last year - two places above the relegation zone and 35 points behind champions Zenit Saint Petersburg.
Sports observers say that Terek has a youthful and talented side that could quickly climb the table if Gullit brings international experience to the team.
Still, Grozny's persistent security worries left many observers shocked by the move. The Chechen capital was reportedly rocked by four small explosions late on Tuesday and early Wednesday that injured several Russian servicemen.
Gullit told a Russian sports daily last month that he would "only be coming to Grozny for the matches" and spending the rest of his time at a team training base about 200 kilometres west of the Chechen capital.
Asked if he was afraid of being in Grozny on Wednesday, Gullit flatly said "no".
"The stereotypes about the Caucasus do not match what is really happening here," Gullit said.
The 1987 European player of the year is one of the most successful players in Dutch football.
He was part of the scintillating Dutch side that won the 1988 European championships and was one of the brightest stars of the superstar-laden AC Milan side that won the 1989 and 1990 Champions League titles.
The 48-year-old has previously coached English Premiership sides Chelsea and Newcastle United along with Dutch giants Feyenoord and MLS club Los Angeles Galaxy.
Follow Emirates 24|7 on Google News.