Hammers defender Potts knocked unconscious in Arsenal defeat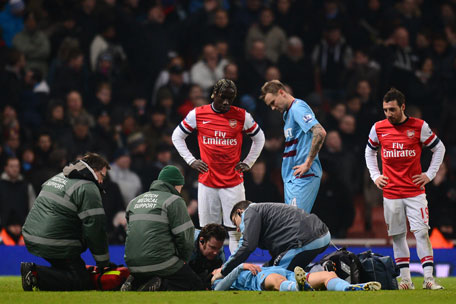 West Ham United's teenage defender Daniel Potts was taken to hospital suffering from concussion after being briefly knocked out in a second-half clash of heads with Arsenal defender Bacary Sagna in their Premier League match on Wednesday.

West Ham manager Sam Allardyce said Potts, 18, was knocked out in the challenge with Sagna, and "hit the ground as a dead weight" where he hit his head again.

Allardyce said Potts was "unconscious for a few seconds - perhaps a minute".

Potts, a 62nd minute substitute, required lengthy treatment on the pitch and was given oxygen before being carried off on a stretcher.

"Danny has gone straight to hospital with concussion - was unable to give the correct answers to the questions the doctors asked him which shows obviously a concussion to the brain," Allardyce told a news conference.

"They put him on oxygen, put him in the stretcher the right way just in case there is no more damage to the neck or the spine.

"When you get knocked out and hit the floor like that, that might be a problem - we don't think it is but we will leave the hospital to monitor him through the night and hopefully he will make a speedy recovery."

The full back is the son of former West Ham United captain Steve Potts.

Potts' injury capped a miserable night for West Ham who were thumped 5-1 at the Emirates.


Follow Emirates 24|7 on Google News.