Head-less Carroll typifies flat Liverpool show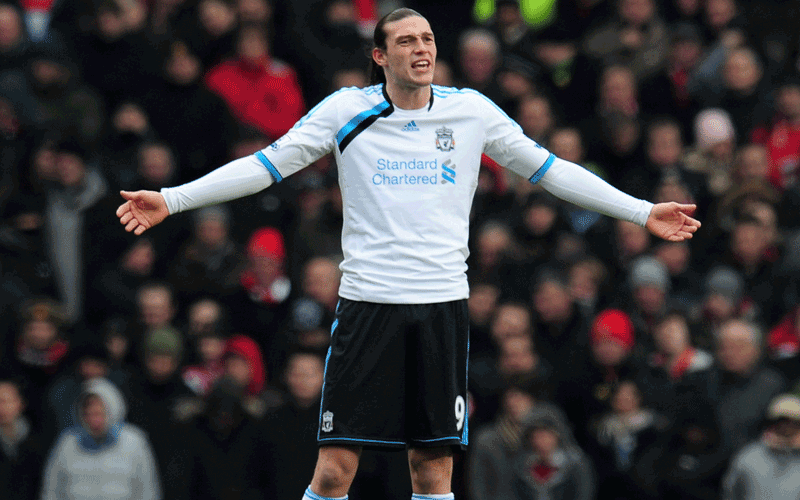 Andy Carroll raised even more doubts about his being a worthy Liverpool No 9. Or a worthy Liverpool player at all.
Time and again manager Kenny Dalglish has brought him on, giving him the chance to be a Kop legend, and time and again, without fail, Carroll has failed to produce.
The FA Cup flick on to set up Dirk Kuyt and win the game for Liverpool against Manchester United raised the hope that the 35million pound striker was worth the price.
However, at Old Trafford, Carroll put on his worst performance with Liverpool staring down the barrel.
Eventually Liverpool lost 2-1, but it was the manner of the loss that will worry supporters
Carroll was beaten to headers by one of the shortest men on the pitch – Rafael – 5ft8in. Not once, but twice.
Carroll at 6ft3in is one of the tallest forwards in the English Premier League.
It typified the flat, passion-less, plodding performance by Liverpool, who surely are now all but out of the Champions League reckoning for next season – a top four finish now a near-impossibility.
Steven Gerard was another disappointment failing to find penetrative passes or even incisive runs.
Manchester United were not at their best either after going two goals up, giving away the ball too easily in their effort to play the possession game.
But every time the Reds won the ball back, there was absolutely no threat.
Luis Suarez laid down the battle line by refusing to shake Patrice Evra's hand – but Evra had the last laugh with a victory lap right in front of Suarez's nose.
Once again the goal Manchester United conceded highlighted their defensive frailty against set pieces – Bellamy whipping the ball in, Rio Ferdinand not anticipating the ball coming through the melee only for it to rebound off his leg and give Suarez a consolation goal.
Manger Kenny Dalglish's tactics and team selection will also be called in to question.
Liverpool set up with Suarez alone upfront, hoping to catch United on the break and suffocate them in midfield and out wide.
When Charlie Adam and Craig Bellamy came on for a jaded Jay Spearing and a harried Dirk Kuyt, it was already too late.
Dalglish has stood by his players through thick and thin.
However, how much more patience can he have with Carroll?
And how much more controversy can he defend Luiz Suarez from?
Follow Emirates 24|7 on Google News.