Heading football may cause brain damage - US study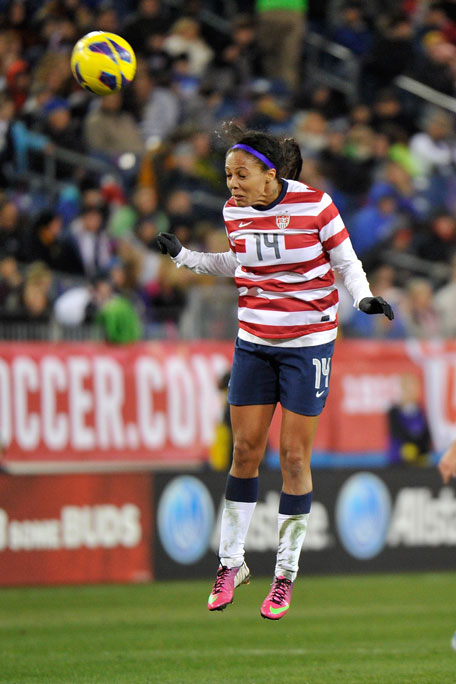 Heading the ball may increase the risk of brain damage to football players, new research has indicated.

The US study, which concentrated on schoolgirl footballers, revealed evidence of mental impairment cause by repeatedly heading the ball, with scientists saying the effects suggest "mild traumatic brain injury of the frontal lobes".

However, they stressed more research was required to determine whether the changes were permanent or temporary.

The study featured a group of 12 teenage female footballers and a matching group of non-players.

Both groups were given a computer screen response test designed to assess levels of mental alertness.

The participants had to react to the random appearance of a white square by touching a point on the opposite side of the screen, with their performance measured by the speed of their response.

In order to assess the impact of heading, the girls who played football were, prior to taking the test, involved in a practice session where they headed the ball a number of times.

Results showed the footballers were significantly slower at the task than the non-players.

However, both groups performed equally well in another task where they had to touch the white square where it appeared, with this test involving less thinking time and a more instinctive response.

Researchers said the more hours spent playing football led to slower responses and this was a greater factor than merely the number of playing years.

Concerns about sport and mental impairment have tended to centre around high contact events such as boxing, where deliberate blows to the head can cause loss of consciousness and long term health problems.

However, previous studies into the effect of heading a football have been contradictory, with an Australian researcher in 2004 saying it did cause brain damage after a 2003 editorial in the British Medical Journal reckoned such an outcome "unlikely".

But Dr Anne Sereno, from the University of Texas, and her colleagues who were the authors of the latest US study wrote in the online journal Public Library of Science ONE: "These findings suggest that even subconcussive blows in soccer (football) can result in cognitive function changes that are consistent with mild traumatic brain injury of the frontal lobes."

The researchers added: "Further study is needed to track soccer players for longer periods to evaluate if these changes are transient or longer lasting, if they are dependent upon repeated subconcussive blows, and if they generalise to male soccer players.

"To our knowledge, these results provide the first evidence that even subconcussive blows in soccer could lead to measurable, even if possibly transient, cognitive changes in young soccer players."

After former England footballer Jeff Astle, a centre forward renowned for his heading ability, died aged just 59 in 2002, an inquest ruled he had suffered death by "industrial injury".

However, leather footballs used for the bulk of Astle's career were considerably heavier than modern plastic ones used by the girls in the US study, especially when wet.

While competitors across many sports worry about the health effects of concussion, for administrators there is a looming financial cost, with players now more prepared than ever to take legal action in response to head injuries.

For example, in American football dozens of federal lawsuits by more than 3,700 former National Football League (NFL) players, including a class action on behalf of over 2,000 ex-players, accused bosses of ignoring evidence about the long-term impact of repeated blows to the head.

The issue came to the fore after Junior Seau, considered one of the greatest linebackers of all time, shot himself dead in May at the age of 43.

A post-mortem examination of his brain revealed that, like dozens of former players, he was suffering from the degenerative brain disease chronic traumatic encephalopathy.

Follow Emirates 24|7 on Google News.