Iraq-UAE Gulf Cup final a boost for local coaches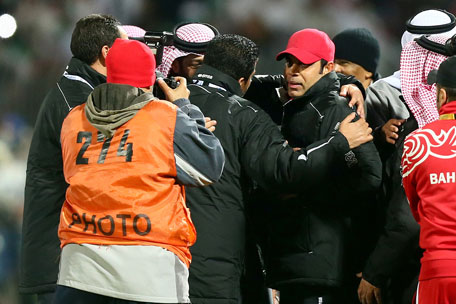 Iraq will take on the United Arab Emirates in the final of the 21st Gulf Cup on Friday after both sides, the only two of eight in the tournament to be coached by locals, advanced through the group stage undefeated.

The UAE netted eight and conceded two in their four-match run to the final, while Iraq, seeking a fourth Gulf Cup, were slightly more goal shy, scoring six but letting in just one.

The UAE under Mahdi Ali and Iraq under Hakeem Shaker have punched above their weight and cut down to size teams like defending champions Kuwait, Oman, Qatar and Saudi Arabia, all of which had some famous international names as coaches.

Qatar, under Paulo Autuori of Brazil, and Oman, under Paul Le Guen of France, could only finish third and fourth respectively in Group 'A' to make a premature exit while Dutchman Frank Rijkaard's Saudi Arabia finished third in Group 'B'.

Kuwait, with Serbian Goran Tufegdzic at the helm, did manage to make the semi-finals by the skin of their teeth but were beaten by a young and energetic UAE in the semi-finals.

Yemen, who finished last in Group 'B', are coached by Tom Saintfiet while Argentine Gabriel Calderon is at the helm in Bahrain.

Two of those coaches have already lost their jobs, in keeping with a predictable trend in the region where coaches are well rewarded but their long term job security is not guaranteed.

Autuori was sacked on Tuesday while the Saudis waited a day longer before showing the door to Rijkaard, ending a deal reportedly worth $16-million signed in June 2011, with the aim of guiding the team to its fifth World Cup finals.

No such fears stalk coaches Ali and Shaker who have respectively moulded young and fast improving teams brimming with confidence and full of hope.

Both sides impressed in the group stages, scoring comfortable victories and though both were tested in dramatic semi-finals, they fully deserved their places in the title showdown.

Iraq, in particular, had to withstand a late assault by Bahrain who dominated the last 30 minutes during which they not only cancelled out their opponents' early lead but also came close to snatching the match-winner.

But Iraq withstood a series of attacks with goalkeeper Noor Sabri pulling off some brilliant saves and punched their ticket for the final when they won the penalty shootout 4-2 after full time ended 1-1, Sabri getting the eventual spot-kick winner.

The UAE, however, had to wait until the final minute of their last-four clash to tame Kuwait in their bid to add to their only one previous Gulf Cup title in 2007, Ahmad Khalil scoring his third goal of the championship to become the top scorer.

In the match to decide third place, hosts Bahrain, who are yet to win this title since its inception here in 1970, take on 10-time champions Kuwait.
Maradona boasts 'Emirati' pride for UAE

Diego Maradona says he now has a second national team to cheer on: The UAE.

The former Argentina great, who coached Dubai-based club Al Wasl for one season, says he will be rooting for the UAE against Iraq on Friday in the final of the Gulf Cup.

Maradona even described himself as an honorary "Emirati" who feels an "emotional link" with the country. He told the daily newspaper 'Emarat Al Youm', in comments published on Wednesday, that he'd be the "happiest person" to watch the UAE lift the Gulf Cup trophy in Bahrain.

Maradona is currently a goodwill ambassador for the Dubai Sports Council.



Follow Emirates 24|7 on Google News.