King of bling Neymar untarnished by transfer scandal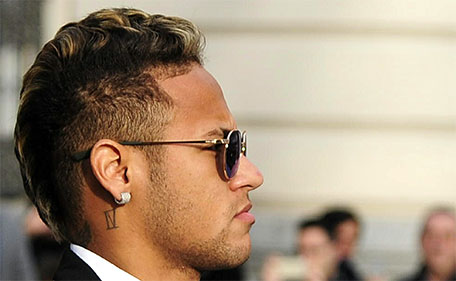 Sporting earrings, shades and posing for selfies with devoted fans, Brazilian superstar Neymar's swagger was better suited to the red carpet than a grilling from Spain's highest court on the growing scandal of how his transfer from Santos to Barcelona came about in 2013.
Neymar endured the toughest 90 minutes of his season as he and his father were interrogated by a judge on Tuesday over their role in the complicated web of contracts that sealed the transfer after a complaint of fraud and corruption by Brazilian investment fund DIS.
His biggest legal battle may yet come back at home, though, as Brazilian prosecutors have also filed tax fraud and forgery allegations.
Yet, Brazil's golden boy, who is expected to captain his country on home soil at the Rio Olympics later this year, remains one of sport's most marketable assets according to industry experts.
Major sponsors have flocked to the 23-year-old's door for his good looks, happy-go-lucky nature and silky skills with Nike, Gillette, Panasonic and Volkswagen among Neymar's big name brands.
"Neymar's legal problems could affect his image in one way or another, but not to the point of breaking contracts or losing sponsors," Erich Beting, director of Maquina do Esporte and an expert in football marketing in Brazil, told AFP.
"Neymar has had a teflon-like ability since the beginning of his career."
The $17 million dollars he raked in from sponsors outweighed the $14 million he made from Barca in 2015, according to Forbes magazine, drawing comparisons with David Beckham.
"He is someone that everyone knows, from the 70-year-old grandmother to the five-year-old grandson," continues Beting.
"When you reach the status where people want to be like you, that makes you priceless for brands and that is what he has managed."
Neymar's deeply religious and family orientated values are also a magnet for sponsors.
His four-year-old son Davi Lucca is often seen with his father at the Camp Nou on matchdays, whilst he has a giant tattoo of his sister Rafaella's face on his right arm.
However, it is his father and agent, Neymar Sr, a former mechanic, who has drawn the attention of judicial authorities in Spain and Brazil, as well as accusations he has hijacked his son's success for his own financial gain.
"My father is doing everything to ensure that I can just focus on playing football. He handles the books, but in the moment when you see someone you love suffering, it starts to hurt," Neymar told Brazilian TV station Globo on Sunday.
Most importantly, it is his performances on the field that have kept Neymar's earning potential bulletproof in the face of fiscal problems.
In 2015 he enjoyed by a distance his best year since moving to Europe as Barca won five trophies with Neymar matching Lionel Messi and Cristiano Ronaldo as top scorer in the Champions League.
Messi and Ronaldo have dominated as the kings of world football for the past decade, but Neymar's ascension as the heir to their throne was confirmed as he featured on the podium behind them at the Ballon d'Or gala to crown the world's best player in January.
At Barcelona he has not only formed one of the deadliest strike forces the world has ever seen with Messi and Luis Suarez, but the three have bonded in a manner rarely seen in ego-driven dressing rooms at top clubs.
Neymar habitually speaks of the more soft-spoken Messi as his "idol" and stressed he is happy with his current surroundings in the Catalan capital.
Yet, his refusal to sign a new contract with Barca - which expires in 2018 - and significantly raise his 190-million-euro ($207 million) buyout clause has the likes of Real Madrid and Manchester United on alert.
Indeed, Neymar Sr has sought tax and judicial reassurances from the hierarchy at the Camp Nou before considering committing his future to Barcelona.
"Living at a club like Barca can be hell, but Neymar has shown his ability to handle the fame and excess," Ramon Miravitllas, writer of the book 'The Political Function of Barca', told AFP.
Ensuring his future remains at the Camp Nou won't come cheap for the European champions.
Follow Emirates 24|7 on Google News.