Kuwait knock Saudi Arabia out of Gulf Cup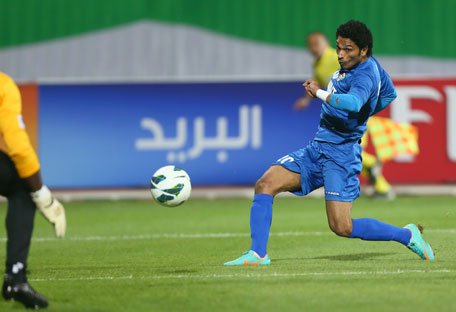 Kuwait knocked Saudi Arabia out of the Gulf Cup by beating coach Frank Rijkaard's side 1-0 on Saturday to secure a place in the semifinals.

The loss comes almost a year after the once-powerful Saudi side failed to advance in 2014 World Cup qualifying.

The latest setback is likely to increase calls for Rijkaard's dismissal, since he has done little to revive a side that was once among the best teams in the Middle East.

The former Barcelona coach was given a three-year deal in June 2011 worth nearly $16 million.

Yousef Al Sulaiman's strike in the 13th minute was enough for Kuwait which needed only a draw to advance.

Al Sulaiman shrugged off a defender and slotted home the winner. After that, Kuwait reverted to a defensive shell which Saudi Arabia found difficult to penetrate.

Still, the Saudis had chances, especially late in the match.

Substitute Nasser Al Shamrani pounced on a deflection by Kuwait goalkeeper Nawaf Khalid Al Khaldy in the 73rd minute but his point-blank shot was punched away by Al Khaldy.

Then, Saudi Arabia's Taisir Al Jassim fired just wide in the 89th.

"We faced a very tough team tonight, a team that has prominent players with skills and physical advantage, but we have won with the right tactics by relying on fast counterattacks," Kuwait coach Goran Tufegdzic said.

"It wasn't easy to beat Saudi Arabia. They were playing the best football of the competition. But our players were motivated."

Rijkaard said his team never recovered after giving up the early goal.

"It was important for us to win full points and in matches like this it's very important to score first. Unfortunately, it was Kuwait who could," Rijkaard said.

"We didn't perform well in the first half but we played better in the second. We had more than one opportunity after tactical changes and we took control of the ball but fortunate was not with our players this time."

Rijkaard said his fate lies with the Saudi federation which has a history of sacking coaches after big losses.

It fired Portuguese coach Jose Peseiro after a 2-1 loss to Syria in the Asian Cup opener in 2011, then his replacement, Nassir Al Johar, after the Saudis left the Asian Cup with a 5-0 loss to Japan in the group stage.

"I share the feelings of Saudi fans and officials about our results," Rijkaard said.

"I'm not happy myself. I want the best and hope the image of the team changes."

Iraq, which already qualified in Group B, beat Yemen 2-0 to remain undefeated in the tournament.

As a result, Iraq will play Bahrain in the semifinals on Tuesday while Kuwait will face the UAE.


Follow Emirates 24|7 on Google News.