Latest Arsenal transfer news: Draxler move to negate Chelsea's Mata sale to Man Utd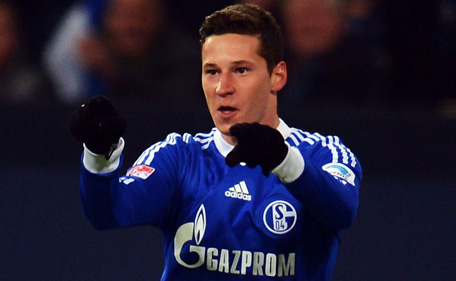 What used to be the exclusive domain of Sir Alex Ferguson and whoever wanted to indulge in the dark arts of the mind games with the formidable Scot, is now turning into a Jose Mourinho versus Arsene Wenger battle.
As accusations of cunning tricks fly around the Premier League over Chelsea's sale of Juan Mata to Manchester United, Arsenal's manager is the one who lit the fire.
Wenger questioned the timing of the sale of Mata, with Chelsea already having played United for the season, but Arsenal still to play them, Mourinho hit back stating that Wenger always complains.
Finally for the Gunners it is more important to consider who is coming to the Emirates this January, rather than who is going elsewhere.
After a commanding performance against Coventry in the FA Cup, Wenger believes the performances of Lukas Podolski and Alex Oxlade-Chamberlain demonstrated the impact they can have during the closing weeks of the campaign.
Most experts believe this is still not enough.
Therefore, the fact that German striker Julian Draxler is still in the news for a possible move to Arsenal will encourage the fans.
According to the Daily Mail, Schalke's Draxler is still very much an Arsenal prospect.
According to the report, the German starlet has made the Emirates Stadium his priority destination.
In true Wenger style though, the manager is leaving possibility of the January window firmly shut in place.
"Podolski can score goals and when you have a goal chance you want him to have it because he is a clinical finisher. He has an unbelievable short and quick backlift and he is very accurate in his finishing," said Wenger, after the Coventry win.
"He can score goals when he starts, when he comes on he is always dangerous."
The manager also praised Oxlade-Chamberlain's display, describing the youngster's central partnership with Jack Wilshire as a potential international pairing.
"I liked what he did tonight in the centre, especially as long as we had the ball. Defensively he worked hard but I liked especially offensively," said Wenger.
"Him and Jack in the centre, in the future they could be a good partnership for England as well."
He denied a fee for the Germany international had already been agreed.
"That again is an illusion. There's nothing happening. Honestly, no. We have no need to take players on the flanks.
We have Chamberlain coming back we have 17 players on the flanks," said the Arsenal manager.
Follow Emirates 24|7 on Google News.