Liverpool bosses warn Suarez to behave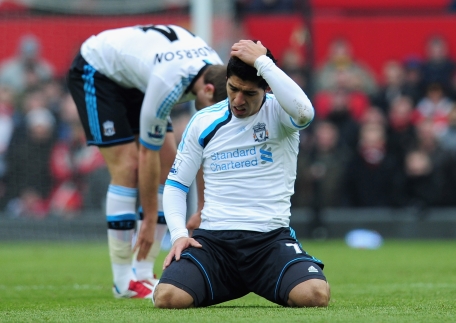 Liverpool chiefs have accused Luis Suarez of misleading them after claiming the Uruguay striker had guaranteed he would shake hands with Manchester United defender Patrice Evra before Saturday's clash at Old Trafford.
Suarez on Sunday apologised for his failure to acknowledge Evra's hand during the traditional pre-match greeting as he came face to face with United's captain for the first time since being given an eight-match ban for racially abusing the Frenchman at Anfield in October.
But Suarez's actions clearly infuriated Liverpool managing director Ian Ayre after Reds manager Kenny Dalglish and club officials were widely criticised for refusing to publicly condemn their player's behaviour.
Ayre insists Suarez had told them he would shake hands with Evra, only to change his mind on the pitch, and he revealed the club have given the forward a strong reminder of his responsibility not to damage Liverpool's reputation.
"We are extremely disappointed Luis Suarez did not shake hands with Patrice Evra before yesterday's game. The player had told us beforehand that he would, but then chose not to do so," Ayre said on Liverpool's official website.
"He was wrong to mislead us and wrong not to offer his hand to Patrice Evra.
"He has not only let himself down, but also Kenny Dalglish, his team-mates and the club.
"It has been made absolutely clear to Luis Suarez that his behaviour was not acceptable.
"Luis Suarez has now apologised for his actions which was the right thing to do. However, all of us have a duty to behave in a responsible manner and we hope that he now understands what is expected of anyone representing Liverpool Football Club."
United boss had Sir Alex Ferguson branded Suarez a disgrace, while Professional Footballers' Association chief Gordon Taylor called the Liverpool star's actions "disrespectful, inappropriate and embarrassing".
Suarez finally showed some contrition in a statement expressing his regret for his actions, but that couldn't prevent Liverpool going public with their anger.
"I have spoken with the manager (Kenny Dalglish) since the game at Old Trafford and I realise I got things wrong," Suarez said on Liverpool's official website.
"I've not only let him down, but also the club and what it stands for and I'm sorry. I made a mistake and I regret what happened.
"I should have shaken Patrice Evra's hand before the game and I want to apologise for my actions.
"I would like to put this whole issue behind me and concentrate on playing football."
Suarez's actions lit the fuse on an always volatile fixture and police and stewards were reportedly called into the tunnel area to calm the situation after Evra tried to confront his rival at half-time, sparking heated scenes between several players.
Suarez scored in the 80th minute with Liverpool trailing 2-0, but United held on to win and Evra embarked on a wild post-match celebration that saw him appear to taunt the South American by celebrating right next to him.
Dalglish also came in for heavy criticism after reacting angrily to questions about Suarez during a post-match television interview in which he rejected the chance to admit Suarez was out of order.
Follow Emirates 24|7 on Google News.