Liverpool hit by new racism claim after cup win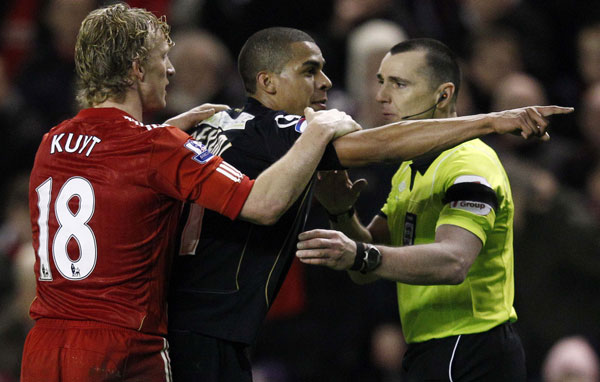 Liverpool were at the centre of another race row on Friday night after Oldham player Tom Adeyemi was alleged to have been racially abused by a supporter at Anfield.
The incident happened towards the end of Liverpool's 5-1 win over the League.
One club in the third round of the FA Cup, and comes as the club are on the defensive over the handling of the Luis Suarez affair.
Adeyemi, who is on loan at Oldham from Premier League side Norwich, seemed to be in tears, and Liverpool captain Steven Gerrard moved across to the corner of the ground where the incident occurred, and comforted the 20-year-old.
Liverpool released a statement after the game in which they confirmed that police were now investigating the incident.
"An incident occurred in the second half of the match which is now being investigated by both the Club and the police," said the club statement.
"We will continue to work closely with the police to establish the details of what actually happened and will make a further statement in due course."
A report on 'The Guardian' newspaper's website citing witnesses said Liverpool fans wearing Suarez t-shirts had racially abused Adeyemi.
The incident comes after the controversy that has raged over Liverpool striker Suarez, who was fined £40,000 and banned for eight matches for racist abuse of Manchester United's Patrice Evra.
The Football Association may investigate this latest incident.
Oldham manager Paul Dickov said that he was aware "something had been said" to make Adeyemi so upset.
"Honestly, from my point of view I haven't spoken to Tom about it," said Dickov afterwards.
"But I know the kid and something has been said. He is a 20-year-old kid who has been well educated with a fantastic temperament and has been with us since the end of August.
"I've never really seen him raise his voice so for him to react like that it's obvious something has been said.
"But what's been said I don't know.
"Look, I've been told walking in here now that the police are investigating this. Honestly that is all I know. If I knew anything else I would tell you."
The incident overshadowed a comprehensive win for Liverpool, who had to come from behind before sealing their place in the fourth round of the FA Cup.
Craig Bellamy, Steven Gerrard, Jonjo Shelvey, Andy Carroll and Stewart Downing all scored after Robbie Simpson had given Oldham a shock lead.
Gerrard, with his prolonged ankle problems behind him, is in the frame to play a full part in next Wednesday's League Cup semi-final first leg at Manchester City after emerging unscathed from his first full game for three months.
"The scoreline flattered us a bit," admitted Liverpool manager Kenny Dalglish afterwards.
"But there were lots of positives. Andy Carroll scoring, Jonjo scoring,Steven scoring.
"Fabio Aurelio also got his first 70 minutes of the season."
Oldham manager Dickov labelled the decision to award a penalty which allowed Gerrard to score to make it 2-1 "a joke".
It was given after Adeyemi pushed Maxi Rodriguez shortly before half time.
"My players are an honest bunch and they were livid it was given," said Dickov.
Follow Emirates 24|7 on Google News.