Man United legend: Gerrard to blame for Liverpool mess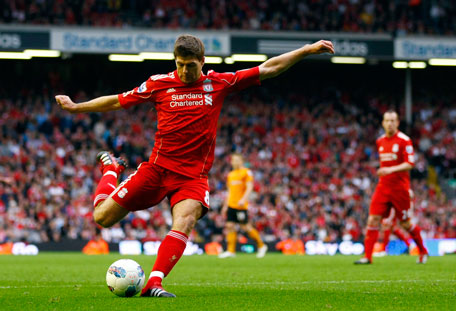 Manchester United legend Roy Keane has slammed Liverpool for sacking Kenny Dalglish despite coming agonisingly close to winning a Cup double.
"Roy Hodgson did not fit. Even King Kenny did not fit. When will it occur to Liverpool that maybe the manager is not the problem?," Keane wrote in a column in The Sun.
He felt seniors players including Steven Gerrard who missed most of the season to a groin injury, should take the blame for Liverpool's dismal season.
"Maybe I'm stuck in the past but, as a player, your pride should be hurt when a manager loses his job because it means you haven't done yours," said the former United captain who felt guilty when Brian Clough left Nottingham Forest after they were relegated in 1993.
"Jamie Carragher, Pepe Reina and Glen Johnson need to look at themselves and ask 'Have I done enough?'," after Liverpool finished eighth, 37 points behind Manchester City and Manchester United.

"That's not good enough for a club of their standing but winning the Carling Cup and reaching the final of the FA Cup should have bought him a bit more time," said Keane who felt Liverpool had lived up to his expectations as a cup team.
He also pointed to the Luis Suarez affair for damaging the profile of the club.
"The poor handling of the Luis Suarez situation, the departure of Damien Comolli and now the ditching of a club legend after only 18 months in charge," he said.
He took a dig at the Glazers and Fenway Group for demanding instant success.
"It seems to me the American owners in the Premier League have a different mentality from what we are used to. Splashing £100 million might bring immediate results in American football but soccer is different and they need to get their heads around that," said Keana, a respected commentator.
"You could throw £100m at that Liverpool team tomorrow, no matter who the manager is, and they still wouldn't be any closer to winning the league," he added.
However, despite all the managerial inputs and funds splashed, Keane said the bottom line was players have to perform.
"Gerrard is a great player and we've all seen him win games on his own. That's fine but a captain doesn't just play well himself, he gets the others to play well," he saide.
"Does Gerrard do that? I'm not so sure. Carragher and Reina have been around long enough to know what's required and Johnson is the England right-back. What have they done to help?"
Click here to read: Real's Aguero buy makes Arsenal lose Van Persie
Click here to read: Hazard may snub Manchester clubs for Chelsea
Click here to read: Why Chelsea doubt Torres is a Man Utd fix
Click here to read: Liverpool go from Capello to De Boer in manager roundabout
Follow Emirates 24|7 on Google News.