Man Utd in driving seat, but still hope for City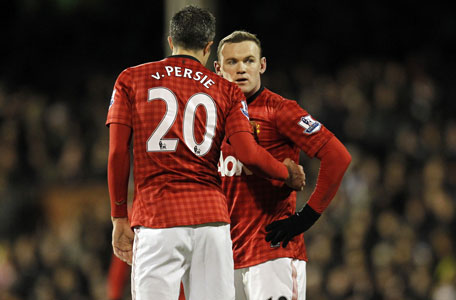 Either Manchester United have virtually wrapped the Premier League title or Manchester City have them exactly where they want them after a weekend that saw the gap grow to nine points.

Champions City's draws with Queens Park Rangers and Liverpool in a week in which United ground out narrow wins against Southampton and Fulham left Alex Ferguson's side in the clear with 13 matches remaining.

City manager Roberto Mancini said the race is far from over after his side's 2-2 draw with Liverpool and while straws are possibly being clutched by the Italian there is plenty of recent evidence backing up his optimism.

Last year City were in even worse shape, trailing by eight points with six games remaining, only for an uncharacteristic United wobble to allow their neighbours to snatch the title with almost the final kick of the season.

The bitter memory of that gripping finale, in which United thought they had won the title only for City's Sergio Aguero to score deep into stoppage time at home to Queens Park Rangers, means United will be taking nothing for granted.

They will also be acutely aware that one bad result can lead to two, or three, as happened last season.

A 1-0 defeat in April last year, was followed by a 4-4 draw at home to Everton, having led 4-2, and a 1-0 defeat at City which effectively took matters out of their hands.

United face Everton at home again this weekend before, then an FA Cup tie against Reading before a run of three comfortable looking league fixtures leading up to a potentially decisive home clash with City on April 6.

Wedged into that schedule are home and away battles matches with Real Madrid in the Champions League last 16, whereas City are now free of European distractions.

Mancini will hope his side have made inroads into the deficit before they face United at Old Trafford.

"There have been plenty of times in the past when gaps like this have been made up," a defiant Mancini said.

"There is still a long way to go and there is Champions League and FA Cup to take into account plus 13 games so a lot can happen during that time.

"Our target is to get into the Manchester derby in April just two or three points behind."

Fuelling City's hopes will be some spectacular Premier League blow-outs.

Manchester United were 12 points clear in March 1998 but were overhauled by Arsenal and that situation was reversed in 2003 when Arsenal frittered away an eight-point lead in March.

Liverpool were eight points clear of United in January 2009 but by the time the two sides met in mid-March they had slipped seven points behind.

City won their last six matches to win the title last season and there are still plenty of points to play for but keeper Joe Hart knows they have left themselves little margin for error.

"Unfortunately it's a big gap and it's getting too big for our liking but we've got to move forward," he told radio station Talk Sport on Monday.

"We've put ourselves in a worse position than we would like to be but we know we'll always be there (in the race)."


Follow Emirates 24|7 on Google News.