Man Utd transfer latest: Pedro reacts angrily to claims he wants to leave Barca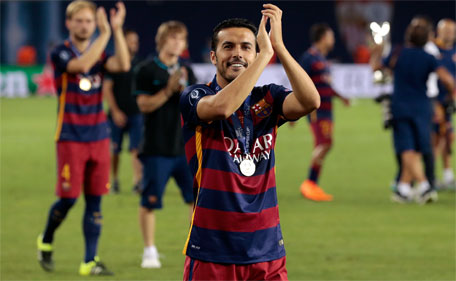 Barcelona forward Pedro was unclear over whether he wants to leave the club after reacting angrily to comments by technical secretary Robert Fernandez that he was seeking a move away.

Pedro came off the bench to score an extra-time winner in a 5-4 thriller over Sevilla in the European Super Cup final on Tuesday and afterwards was ambiguous over his future.

"Robert made some unfortunate comments. We spoke only a few words and he doesn't know what I have lived here in this club to speak that way about me," Pedro told reporters.

"I know that I am and will always be for Barca, people should not doubt that.

"The response is no (I don't want to go) but it is a complicated situation for a lot of reasons.

"It is not down to money as has been said and that is disrespectful.

"It is down to consistency, minutes and I am an ambitious player. Whether I stay or go, I will always follow this team."

Pedro has had limited chances at Barca due to the presence of players like Lionel Messi, Neymar and Luis Suarez, with reports he is close to agreeing a move to Manchester United.

Following the Super Cup match Fernandez repeated that Pedro wanted to go and that any club would have to pay his buy-out clause of 30 million euros ($33.12 million).

"We have all said ...that we don't want him to leave but it is his decision," Fernandez told reporters.

"He is an extraordinarily talented player on and off the pitch for Barca but he wants to leave and there is nothing we can do.

"The clause is not negotiable and this could be his last game."


Follow Emirates 24|7 on Google News.