Mancini warns City to respect Spurs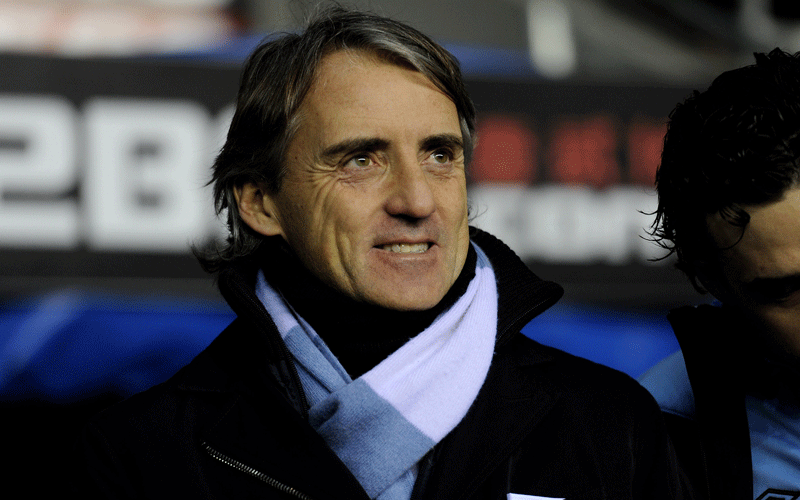 Roberto Mancini has warned his Manchester City players that their 5-1 victory over Tottenham will mean nothing when the title rivals clash again at Eastlands on Sunday.
Premier League leaders City would open up an eight-point lead over third placed Tottenham with a win this weekend, but Mancini is taking nothing for granted even though his side routed Harry Redknapp's men at White Hart Lane in August.
That win in north London announced City's arrival as genuine title contenders, but Redknapp has transformed his side into a force to be reckoned with since then, while Mancini's team have seen their form dip in recent weeks.
All of which explains why Mancini is so keen to downplay the result of the last meeting between the clubs.
"That was five months ago, their second match of the season and it was totally different," he said. "You know when you start the season anything can happen.
"Everyone in the squad is not ready to play 100 per cent, everyone needs four, five, six games to be confident. Now it is different and I think Tottenham are one of the best teams.
"It is better to lose one game 5-1 than to lose five games 1-0. You can have one bad day when you concede three, four or five goals.
"We won 5-1 because it was only the second game of the season, for that reason only. Now it is more difficult."
Tottenham have rarely been involved in the title battle since they last won the English crown in 1961, but Mancini believes they could go all the way this season.
"Tottenham are a very, very strong team - they have 20-22 international players and not all of them are young players. For me, they can win the title," he said.
"I think at this moment three clubs - City, Manchester United and Tottenham - could win the title.
"After the next five or six games that could change - maybe Chelsea could come into it. But for them to recover 11 points on three teams ahead of them is difficult."
Mancini, who will have Micah Richards and Mario Balotelli available for the game after short-term injuries, has been criticised recently for waving an imaginary card at referees in an attempt to get opposition players booked or sent off, an issue which he brushed aside in his pre-match press conference.
In response, Spurs boss Redknapp, who admitted he does not like seeing fellow managers trying to influence referees that way, joked about letting Joe Jordan, his imposing assistant, deal with Mancini if it happens at the Etihad Stadium.
"I will set Joe on him, he speaks Italian!," Redknapp said.
"But I don't like it and I wouldn't do it. I don't think there is any need for it.
"We all do things we shouldn't do at different times, make mistakes, we shout and scream. We get caught up in the game but it's not something I like to see."
Redknapp is more concerned with deciding on his starting line-up.
William Gallas and Sandro have been ruled out with calf problems, while on-loan Manchester City striker Adebayor cannot play against the club that loaned him to Spurs.
But, regardless of whether Spurs get a positive result, Redknapp believes the title race still has plenty of twists and turns left.
"A six, seven or eight-point lead can evaporate very quickly," he said.
"We've seen it so many times. It's all to play for, for everyone. Top four is where we want to be, we want Champions League football and everything above that is a bonus.
"We have played fantastic and have 46 points - that's incredible for us."
Redknapp also suggested his team will attack when they face the league leaders.
"They (City) will know they have had a game, for sure," he added. "We'll go with a positive team, I wouldn't want to sit back. We've got players to hurt them and are looking to take the game to them."
Follow Emirates 24|7 on Google News.