McCulloch denies malice in Kayal challenge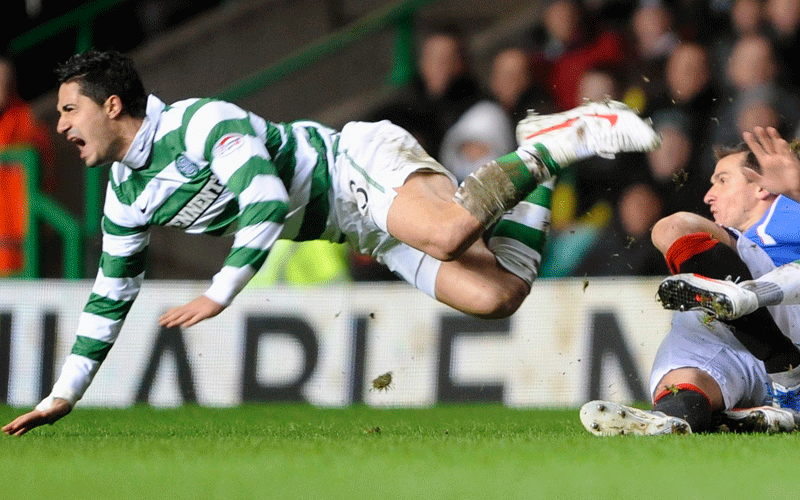 Rangers midfielder Lee McCulloch has said suggestions he deliberately injured Beram Kayal in the tackle that ended his Celtic counterpart's season are "ridiculous".
Israel international Kayal was ruled out for the remainder of the campaign on Tuesday following the injury he suffered in a tackle from McCulloch in the Glasgow derby at Parkhead on December 28.
"It wasn't as bad a challenge as some people are trying to make out," McCulloch told the Scottish Sun. "We were both committed to winning the ball and I think television replays have proved that.
"I have never gone out to purposely injure a fellow professional and I never will," the 33-year-old added.
"We both went for the ball and unfortunately for Beram he picked up this injury.
"My thoughts are with him and I am sure he will come back stronger for it. I sincerely wish him all the best."
McCulloch was absolved of blame for the challenge by Celtic manager Neil Lennon but that didn't stop him being criticised by many Hoops' fans.
"Some of the things being said are over the top," McCulloch insisted.
"To suggest it was intentional is ridiculous.
"I was delighted to see Neil Lennon say it was a committed tackle between two players. He has played the game and knows what can happen during it.
"I have to thank Neil for what he said as some people are determined to make more of the issue."
Meanwhile the 23-year-old Kayal promised to come back stronger and quicker than expected, telling the Daily Record: "The doctor and the specialist met with me and told me it went well.
"In the past I have returned stronger than before and I believe this will happen now too.
"I can't wait to start the rehabilitation process and to get back playing quicker than people think I will be back."
Follow Emirates 24|7 on Google News.