Mourinho's $1 million question: Who knows what will happen?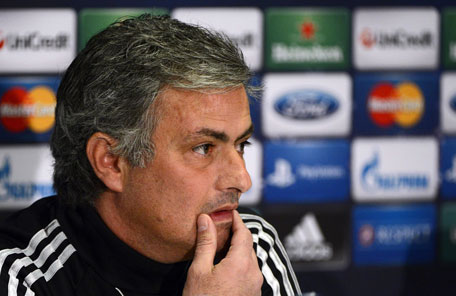 Real Madrid manager Jose Mourinho says pre-game form can be discounted ahead of his side's mouth-watering Champions League showdown with Manchester United on Tuesday.

Both teams approach the concluding leg of the last 16 tie at Old Trafford buoyed by excellent recent results.

United have established a huge lead over Manchester City at the top of the Premier League and are also in the FA Cup quarter-finals, while Madrid go into the game following impressive back-to-back wins over old foes Barcelona.

United claimed a precious away goal in the 1-1 first-leg draw in Madrid three weeks ago, but Mourinho says it is impossible to pinpoint the factors that will decide the outcome of the tie.

"They (United) are on a fantastic run, better than ever this season - reaching the FA Cup quarter-finals, winning the Premier (League) already in March. They don't lose a match in months," he said.

"We're also in good form in 2013. But that's the $1 million question: who knows what is going to make the difference?

"Nobody knows, and tomorrow (Tuesday) the world will stop to watch this tie. It looks like a final. Let's see which teams arrive at Wembley (for the final), but I doubt the expectation can be bigger than for this one."

Mourinho has included Iker Casillas in his squad despite the Spain goalkeeper being sidelined with a broken hand, but the Madrid manager confirmed that he would not be able to feature.

"Everyone's fit and ready to play, with the exception of Iker Casillas," he said at Monday's pre-game press conference.

Mourinho rose to prominence in England after leading Porto to a shock victory over United in the Champions League in 2004, celebrating the decisive goal at Old Trafford with an impromptu sprint down the touchline.

The former Chelsea manager says that although he is now more adept at controlling his emotions, the feelings provoked by what happens on the pitch remain as intense.

"That match was my first season playing Champions League football," he said.

"Now I have more than 100 matches and I think I can control my emotions in a different way. If I lose tomorrow, I don't cry, and if I win, I don't run 100 metres, for sure.

"But the happiness and the sadness - sleep well, sleep not so well, laugh a lot in the plane, or pretend I'm sleeping - that's the same story."

Mourinho, 50, has been tipped as a potential successor to 71-year-old United manager Alex Ferguson and admits he hopes to still be managing when he reaches the Scot's age.

"I can imagine, yes. Because I think this is the kind of job where, the older you are, the better you are, because it's a job where the experiences that you live and the thoughts you give to those experiences make you better," he said.

"So yes, I imagine, and I would love that God gives me health so I can do it. And Sir Alex is unique. I don't have any words that can add to what everybody thinks about him and the respect he deserves from everyone."

Ferguson, meanwhile, was evasive when asked to assess Mourinho's merits as a candidate to succeed him.

"I get this question all the time and it's a question I can't answer because I'm still the manager here, and I hope I'm the manager tomorrow," he said at his own press conference.

"It's impossible to discuss who's going to replace me because there's no time factor in it."


Follow Emirates 24|7 on Google News.