No conciliatory talks with Liverpool: Ferguson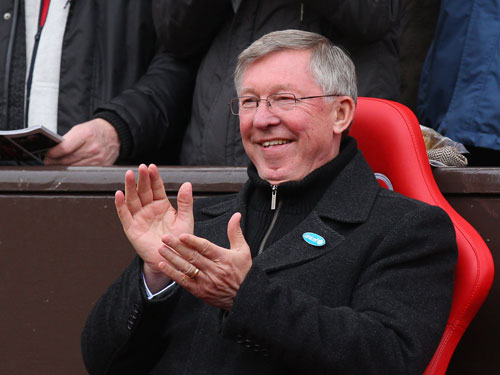 Manchester United manager Sir Alex Ferguson insists there is no need for conciliatory talks with Liverpool over the Luis Suarez racism row.
Suarez was banned for eight matches after being found guilty of racially abusing United's French defender at Anfield in October.
Liverpool have defended the Uruguayan striker throughout the investigation into the incident but have decided not to appeal against the FA ban, with Suarez set to return for the game at United on February 11.
It has been reported that Liverpool officials are seeking talks with United counterparts in an attempt to calm tensions ahead of the game at Old Trafford.
But Ferguson, whose team face neighbours Manchester City in the FA Cup third round at the Etihad Stadium on Sunday, is adamant there is no point in the discussions.
He said: "It's nice to do it through the press, you'd have thought they'd have come to Manchester United
"But I don't see why there's any need for that to be honest and I've nothing to say about it."
Ferguson has once again maintained that United will not be going into the transfer market this month despite his squad's injury problems.
The Premier League champions have even been linked with a move for Chelsea's veteran midfielder Frank Lampard as many observers and fans believe they need reinforcements to sustain a push for the title.
Ferguson said he understands why people feel that United's squad needs bolstering but remains adamant that any targets he has will not be available in the winter transfer window.
"I think they're right but what can you get in January? I say this all the time, players that we like, we won't get," he said.
"You're not going to tell me that Chelsea would sell Frank Lampard to Manchester United in January. Do you really believe that?
"So there's no foundation to that because Chelsea wouldn't do something.
"The second half of the season is important to them and if they want to win the league they'll have to hold on to their best players. The players that we do like we won't get.
"So do you take a second-rate player? No, of course you don't. The injury situation has accelerated a lot of fans into thinking that we need to get someone.
"But I would rather stick with the ones we've got rather than bring someone in who won't get a game anyway because they're not good enough."
Those problems show no signs of easing ahead of the trip to the Etihad Stadium, with Chris Smalling still unable to return from tonsillitis and Jonny Evans out with a calf problem.
Ferguson, who insists he will not mention City's 6-1 win at Old Trafford in October as motivation for his team, expects Yaya Toure to line up for the Blues.
City manager Roberto Mancini has revealed he expects Toure, and brother Kolo, to depart for Ivory Coast duty at the African Nations Cup this weekend.
But Ferguson, who is unsurprised to see City head into the new year at the top of the Premier League, is anticipating facing Toure.
He said: "I'm not sure that Toure won't be available for Sunday, he probably will, but with the African Nations, he could be away for two or three games and back within 10 days.
"They've got a strong and experienced squad and apart from (Mario) Balotelli all of the rest of the players are very experienced.
"It's not unexpected that they're where they are at the moment but they also know that we're right behind them with Tottenham.
"A lot is going to happen between now and the end of the season.
"I can't see anyone outside of the top three teams winning the league, that's fair to say, in the positions that Arsenal and Chelsea are in, they need all three teams to collapse and I don't think that will happen."
Also read:
Follow Emirates 24|7 on Google News.