Not Man U, Real or Barca? Newcastle for Rooney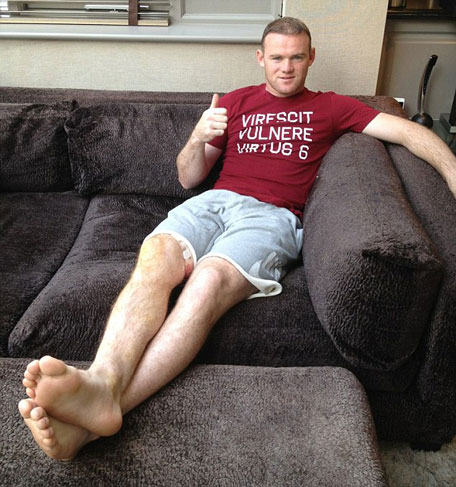 Wayne Rooney fears Manchester United are preparing to offload him for £40 million, according to The Mirror.

Real Madrid, Barcelona or even Newcastle who have top four ambitions could be the next destination for the United hitman.

Rooney's relationship with Sir Alex Ferguson has broken down, with United now ready to cash in on the England striker.

With Robin van Persie, Danny Welbeck and Javier Hernandez, Ferguson feels he has enough options in attack to cope without Rooney.

Ferguson is elated that Van Persie chose Old Trafford ahead of bigger cash rewards at rivals Manchester City.

The Dutch star did not disappoint after being handed his first start ahead of Rooney by scoring the opening goal with a brilliant volley against Fulham.

Rooney's perceived lack of fitness were cited as the reasons for him being dropped for Saturday's 3-2 win over Fulham.

Fergie said: "It was a refreshing transfer because he was also wanted by Manchester City and Juventus and probably turned down better offers to pursue a dream and play for a club for footballing reasons."

Hernandez has also publicly declared he is ready to accept the challenge of replacing Rooney.

Meanwhile, Rooney has revealed his anguish over the horror cut that will keep him sidelined for up to two months.

The Manchester United striker posted a picture on Twitter of himself resting his bandaged right leg on the sofa at home.

He wrote: 'Thanks for all the messages of support.

'Gutted to be out for a while but my leg will be ok which is the main thing.'

Rooney is likely to have to wait until the wound has healed before he can discover exactly how long he should expect to be kept out.

Meanwhile, Newcastle and England legend Alan Shearer feels Rooney is at the crossroads of his career.

Writing in his column in The Sun, Shearer said: "Rooney should be entering the peak years of his career.

"Instead he appears to be at a crossroads rather than golden track to further glory.

"Question marks over his fitness, rumours of discontent between himself and the manager — and now the arrival of Robin van Persie and Shinji Kagawa."

This only adds fuel to speculation that Rooney days at Old Trafford are numbered.
MUST READ:
Walcott given 48 hours to decide Arsenal future
If Drogba is up for sale, should Arsenal buy him?
Dembele to Spurs will hurt Arsenal, Man Utd
Follow Emirates 24|7 on Google News.