Premier League champions City no longer 'fear' Barcelona, says Nasri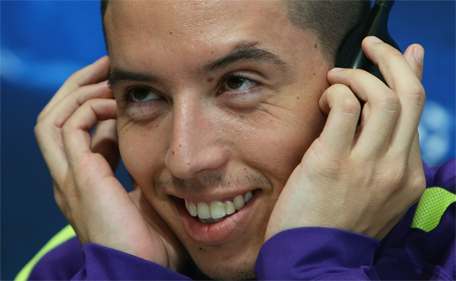 Manchester City do not have an inferiority complex as they prepare to host Barcelona in their Champions League last 16 first leg tie at The Etihad Stadium on Tuesday, said French midfielder Samir Nasri.

A year ago at the same stage City bowed out 4-1 on aggregate against the four-times European champions, never recovering from losing 2-0 at home when they had Martin Demichelis sent off.

There is a growing belief, however, that the Premier League champions are hitting top gear at just the right moment and can reach the quarter-finals of Europe's blue-riband competition for the first time.

"I think it was too much of a big game for us (last year)," Nasri told a news conference on Monday. "We gave Barca too much respect last year.

"This year is different. We know what we're capable of. (Lionel) Messi and (Cristiano) Ronaldo play in their own galaxy, but the rest do not. We're not going to be scared."

"No fear" clearly is the mantra.

"Fear?" said City's captain Vincent Kompany, who will be manning the barricades to stop Messi, Neymar and Luis Suarez in front of a noisy full house on Tuesday.

"You don't go in at this level fearing strikers. We want to play against them. It will be the fourth time in a year. There's nothing new to worry us, it's a case of having the whole team at a very high level.

'Special team'

"They're a special team with special players, of course. I think their ability is not about hurting you all game - you can have tougher games when you go to Stoke City.

"It's about the fact they can decide a game within a second, can finish games with a touch of magic."

City, 5-0 winners at home to Newcastle United in the Premier League on Saturday, were boosted on Tuesday with the news that midfield trojan James Milner has shaken off an injury and manager Manuel Pellegrini was upbeat about his side's prospects.

"I think that last year was different. We arrived having played 19 games in two months," he told reporters. "It wasn't our best moment.

"The main thing is to fight for possession of the ball. That is very important," he added. "A game with slow pace is better for Barcelona. We need the ball and good distribution, to get Barcelona as close to their own box as possible.

"No matter the result tomorrow, the tie lasts 180 minutes."
Follow Emirates 24|7 on Google News.