Redknapp denies QPR misbehaved in Dubai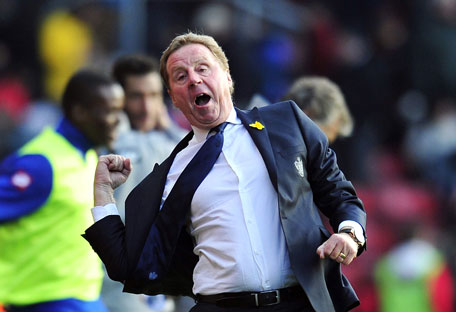 Queens Park Rangers manager Harry Redknapp has denied reports his players behaved unprofessionally during a recent trip to Dubai.

Redknapp reacted angrily to the claims that emerged on the morning of his side's 2-1 victory at Southampton, which breathed new life into their battle to avoid relegation from the Premier League.

A newspaper story suggested Rangers players' drank excessively during a five-day break that was likened to a "stag party", prior to the recent defeat by Manchester United.

But Redknapp said: "It's an absolute load of nonsense. There were six or seven teams out there and we were the only team that trained every day.

"Two teams out there didn't train at all all week - not one second did they train. The managers were out there with their wives and they said: 'We've come out here to rest, to unwind.'

"That's fine, but we trained every day. We didn't have one day off. We trained the first two days and then the doctor came to them with the sports scientist and said to me: 'They shouldn't train tomorrow.

"'I've looked at them, Harry, and you've worked them so hard, a lot of them have got aches and strains.' I said, 'No doc.' And I worked the socks off them. I had them on their knees, I worked them so hard."

Redknapp did concede his players had been given the all-clear to enjoy one night out, but blamed a player's agent for the emergence of the report.

"I gave them one night where they could go out and that's what they did. And when they went out, they told me there were five other teams at the same place," he said.

"Why hasn't anyone written about the other teams being out? Why only QPR? You know why, because this story has come from somebody who is trying to disrupt the club.

"I know exactly who it is and I know the reasons why he is doing it. The chairman knows, the chief executive knows. It's not come from players, it's come from an agent.

"They might have got drunk on the one night they went out, I can't control that. They can go home tonight and have five bottles of wine; how will I know?

"I let them go out and I said don't anyone be late for training, or they would be fined. But everyone was on time."

Redknapp's side shrugged off the controversy to register only their third win of the season thanks to goals from Loic Remy and Jay Bothroyd, with Gaston Ramirez responding for Southampton.

Rangers remain bottom of the Premier League but the manager believes this victory improves their hopes of survival.

"We've still got a chance," he said. "It's going to be tough. I might go to Dubai again this week and have them all drinking, laying around the pool. Why not? It's a good idea."

Victory came at the cost of an injury to goalkeeper Julio Cesar, who suffered a leg problem after a collision with Jay Rodriguez.

Southampton's defeat meant Mauricio Pochettino's side missed out in their bid to extend the three-point gap between themselves and the bottom three.

"We were not expecting a result like this but we have to learn from our mistakes," Pochettino said.

"We are in the same position in the table but what's clear to me is we need to work on the confidence of the team because today (Saturday) was a game we needed to win, had to win, but didn't.

"I don't think we were complacent. The team knew very well what was at stake and we can explain what happened in the game. They had three chances and scored twice, while we couldn't take our chances."


Follow Emirates 24|7 on Google News.