Rooney warns Man Utd of getting complacent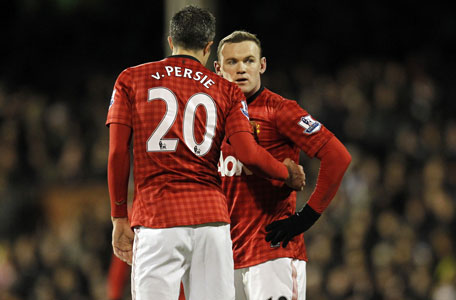 Wayne Rooney insists the Premier League title race is far from over despite Manchester United moving 10 points clear at the head of the table.

Rooney's 79th minute goal - his fourth in three games - was enough to secure victory at Fulham and consolidate the position of the league leaders.

But the striker insists there is no room for complacency as they enter the final third of the campaign.

"We're in a good position, but we're not going to get carried away. We've got to keep going, take each game as it comes, and see where we are with three or four to go," said Rooney.

United manager Alex Ferguson also played down his side's position.

"It's a good result. It was a smashing game. We're in a good position, we're pleased," he said.

But Fulham manager Martin Jol was less circumspect about United's prospects.

"I think they will win it," he said.

United retained their composure after the game was delayed for 10 minutes immediately before the half-time break when the Craven Cottage floodlights failed.

Rooney added: "It's just one of them things. We just made sure we kept our focus and kept going and pushing for that win. We know we can create chances and take them.

"It's always difficult coming here and they made it difficult for us. We hit the post and crossbar three times. We had to keep going and believe we could get the goal and we did."

Rooney is in a rich vein of form having struck 10 goals in 10 games although his manager believes there is more to come from the 27-year-old.

"Wayne Rooney is still young. The thing for him is to keep clear of injuries, he's had two or three this season and he needs games and when that happens he has a big role to play," said the manager.

And declaring himself pleased with the performance he added: "I think it was a really determined performance and it wasn't easy because Fulham played their part.

"1-0 doesn't do the game justice. We hit the woodwork three times, they have had chances too, and all in all it was a fantastic game. It was amazing it finished 1-0."

Jol admitted Rooney had been the difference in a closely fought game that was much more evenly balanced that the FA Cup meeting between the two sides seven days previously that ended with a comfortable 4-1 win for United.

"Rooney was always a big problem for us but today I thought he was so-so. He was unbelievable at Old Trafford last week. But he scored a goal out of nothing," said Jol.

"Sometimes you need something out of nothing and that was Rooney today."


Follow Emirates 24|7 on Google News.