Salah became Liverpool's record Premier League scorer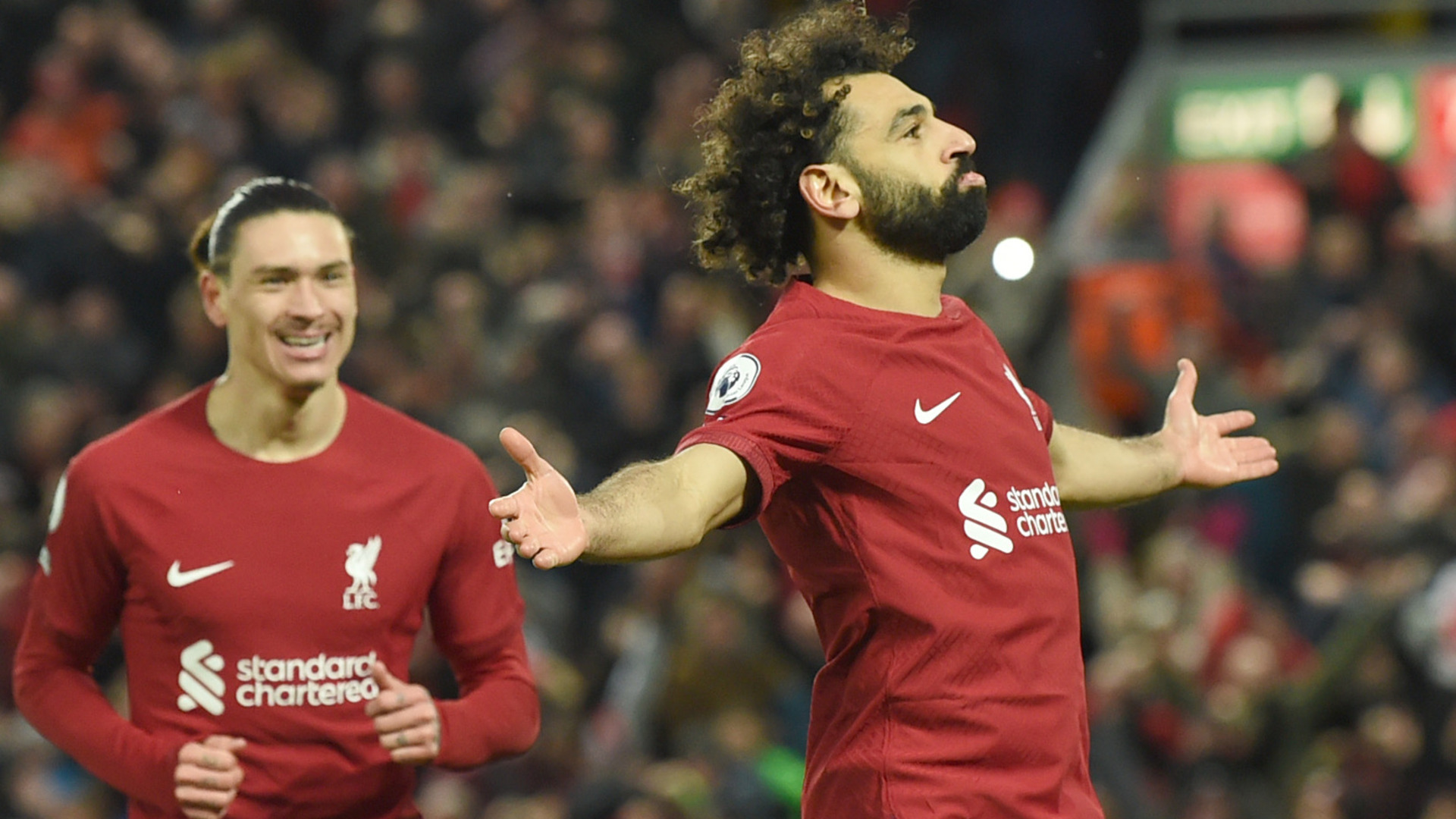 Mohamed Salah admits he's 'always' been chasing Robbie Fowler's record after becoming Liverpool's top Premier League scorer with a double in 7-0 mauling of Man United, as Egyptian star hails 'unbelievable' result
Salah became Liverpool's record Premier League scorer with double on Sunday
He also set a new record by taking his tally to 10 goals for the Reds in the fixture
Liverpool 7-0 Man United: Ten Hag's side are ripped to SHREDS in record defeat
Mohamed Salah confirmed himself as Liverpool's greatest scorer of the modern era as his history making double sent Manchester United spinning to their heaviest Anfield defeat.
Liverpool ran amok in a surreal second half, scoring six times to run out 7-0 winners. Salah scored two of the septet, taking him onto 129 Premier League goals and eclipsing the record Robbie Fowler had held for 16 years; he was presented with a '129' shirt to mark the occasion in the dressing room.
This humiliation of their greatest rivals, which left United manager Erik Ten Hag seething and furious his squad's professionalism, has huge historical context because the last time Liverpool scored seven in this fixture, in October 1895, United were called Newton Heath and Queen Victoria was monarch.
Salah's tally against United is now 12 – another individual record – and he was overwhelmed at completing what had been a long-held ambition. He intended to go home and celebrate quietly with his family and drink a cup of camomile tea – then sleep.
He said: 'It's very special to win a game like that but we need to stay humble. Hopefully we can keep winning. It's very special (to go past Fowler). I cannot lie. This record has been in my mind since I arrived here and scored 31 in my first season (2017-18).
'I have always been chasing this record, so to beat it against United and to do it with this result is unbelievable. My first goal was a good one (with my right foot) We are fifth now. We have one game in hand. We just need to enjoy that. The last one goal was my favourite!'
United simply couldn't cope with Liverpool and it was staggering to think they ended up on the end of a bigger skewering than the ones Jurgen Klopp's side administered last season, when winning 5-0 at Old Trafford then 4-0 on home soil. They could, conceivably, have scored ten here alone.
'It is quite obvious – it is unprofessional,' said Ten Hag, who has been on the end of a 4-0 skewering at Brentford and 6-3 dismantling at Manchester City this season. 'I think it's a huge difference to Brentford. We were 4-0 down at half-time, we started the game very bad.
'First half (here), I think we were the better team. First half, we created the better chances. We had two one-on-ones with the goalie and they hadn't. Before half-time we made one organisational mistake and we concede a goal, so I think we were in the game.
'It really surprised for me after half-time, we gave the game so quickly. First two goals were defensive transition moments, the first was a turnover and the second was a counter, bad decisions and decisions on the ball, how we anticipate and how we concede a goal is really annoying.
'The third was a counter and so unprofessional decisions, not following in, and then running in, moving forwards, giving space away in midfield, not tracking back. So then it is 3-0 and the game is lost, then as a team you have to stick together. That is what we didn't do. It is a surprise for me.'
Ten Hag added ominously: 'I didn't see this from my team. I don't think it is us. I don't think it is Manchester United. It was really bad and poor. I have given my opinion about it. We will talk about it but I know this team will reset. We have to bounce back. We have shown in the past we can.'
If one Dutchman stormed out of the stadium, another left on cloud nine as Cody Gakpo had his finest day since his £45million arrival from PSV Eindhoven in the January window. He scored Liverpool's first and third with superb finishes and looked very accomplished.
Everybody told me a lot about this game before so I knew it was a big,' said Gakpo. 'We put in a good performance. We were just determined, eager to keep going. We got enough chances and it's amazing we scored seven. We just have to keep going now.
'It's a new front three except for Mo. It's a little bit difficult in the beginning because the old three were so used to each other. My second goal was the most beautiful but my first was the most important.'
Jurgen Klopp added: 'A freak result but a top performance. The way we started the game was special. We know we can play good football and better than we showed at times this season. It was a really special night but we have to keep going.
'It was one of the best performances for a long long time. Everybody saw how good the boys can be. No one was doubting Darwin's future impact. Cody plays in the most difficult area in the pitch against a man marking side which is super tricky. And Mo? Mo is Mo.'
Follow Emirates 24|7 on Google News.