Shanghai SIPG deny claims Hulk punched rival coach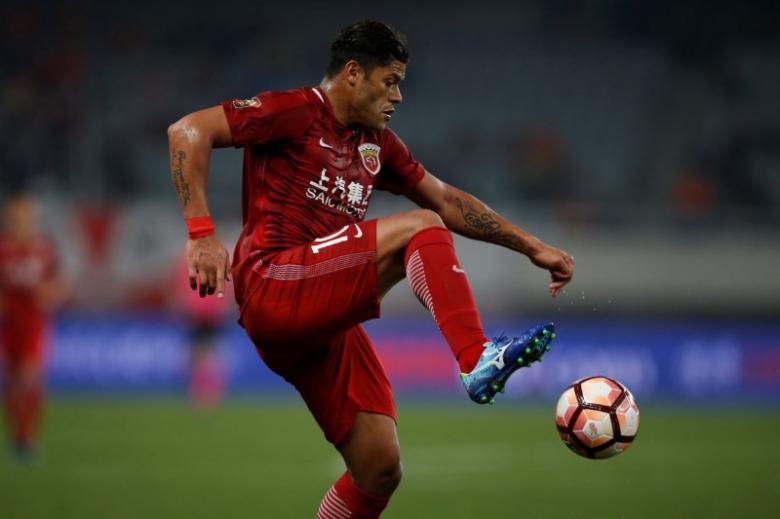 Brazilian striker Hulk has been accused of punching the coach of a rival team on Saturday because he "despises the Chinese people", a claim his club Shanghai SIPG denied after their latest win in the Chinese Super League.
Hulk, who joined SIPG from Zenit St Petersburg in an Asian record deal worth 55 million euros (£46.58 million) in June last year, allegedly punched Guizhou Zhicheng assistant coach Yu Ming at halftime during his side's 3-0 win.
"There were some arguments in the first half and their coaches took the initiative to insult us during the game, that was why we had the arguments with them," said out-going Guizhou head coach Li Bing, who is due to be replaced by Spanish coach Gregorio Manzano.
"This lasted until the break, and later, in the corridor, Hulk cursed our assistant coach in English. We argued with him and he punched our assistant coach Yu Ming and Yu fell to the ground.
"Foreign players come here to help with the development of Chinese football, but no matter how well you play, you can't despise Chinese people, let alone beat our Chinese coaches."
SIPG, who won the game after a heated first half that saw referee Gu Chunhan disallow two Guizhou goals in the opening 45 minutes, denied the allegations on social media.
"The claims Hulk punched the assistant coach of Guizhou are not true," SIPG said on the club's official Weibo account.
"The statement of Li Bing and Yu Ming are inappropriate and they provoke hostility between the foreign players and Chinese people and it has affected the image of our club."
SIPG general manager Sui Guoyang denied the incident had happened after reviewing CCTV footage while coach Andre Villas-Boas claimed he and Hulk were the first two people into the team's dressing room at halftime.
"I don't know what people are talking about," said the former Chelsea and Tottenham Hotspur coach.
Guizhou coach Li later took to his weibo account to add to his version of the events and said SIPG's denial was 'inappropriate'.
Follow Emirates 24|7 on Google News.