Sky, BT win Premier League TV rights for $7.8 billion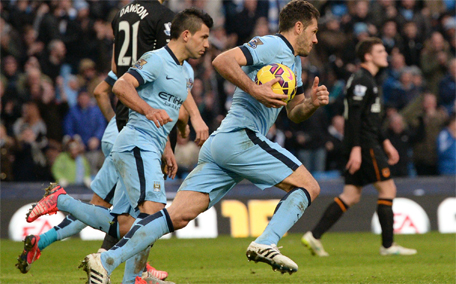 Broadcasters Sky and BT on Tuesday won the UK television rights to broadcast Premier League football games in 2016-2019 for a record £5.1 billion ($7.8 billion, 6.9 billion euros), the league said.

The stunning 70 per cent price hike is the result of a ferocious bidding war that has seen BT muscle in on what had been Sky's territory and has included reported bids from America's Discovery Network and Qatar's beIN Sports.

Sky will pay £4.2 billion for five of the seven packages and will show 126 matches per season, including the new Friday night slot for 10 games, with BT retaining the other two, totalling 42 matches.

Premier League chief executive Richard Scudamore said the deal meant "money will continue to be invested in putting on the best show and new stadiums and heavily in youth.

"Clubs are very aware that part of our product is keeping the stadia full," he added.

"Both Sky Sports and BT Sport have done a tremendous job in bringing the game to the fans as well as providing the revenue that allows clubs to invest in football, facilities, youth development and their communities."

Crucially, Sky managed to keep hold of the bumper Sunday lunchtime slot, but at a cost.

"Sky had the most to risk with this TV deal and has been forced to pay over the odds to secure prime packages including the Sunday lunchtime kick offs, which typically attracts the highest viewing audience," said Joshuya Raymond from analysts CityIndex.

"I expect Sky shareholders to react warmly to this latest victory but in the medium term, there has to be a deeper concern on the spiralling prices paid by broadcasters," he added.

NFL

The sale price per match, which was already as high as £4.28 million prior to 2013, is expected to rise from £6.53 million to around £8 million.

The figures are a world away from the fee of £191 million paid in 1992 by Sky - in which media magnate Rupert Murdoch holds a 39 per cent stake - for the rights over a five-year period, at a time when the English top flight was not yet a global heavyweight.

The new deal will make the Premier League, which is regularly watched by nearly three million TV viewers in 170 countries, the second most profitable sports championship in the world behind America's NFL.

Traditionally Britain's go-to channel for live sport, Sky has unsurprisingly been perturbed by BT's incursion into its domain, particularly as the two companies are also rivals in the TV and internet markets.

BT, which launched BT Sport in the middle of 2013, has already landed some heavy blows, having surpassed Sky in certain areas and established footholds in motorsport and rugby union.

Its pursuit of Sky has also seen it acquire exclusive rights to show the lucrative Champions League and the Europa League in a deal with European governing body UEFA worth £897 million.

But in the domestic market, BT needs to expand its offering in order to continue to attract new subscribers.

The race for rights to show live games has long been abandoned by terrestrial broadcaster BBC, which continues to show weekly highlights on its much-loved Match of the Day programme in a long-term £204 million deal.

A long-standing agreement between broadcasters and the football authorities means that matches taking place in the traditional Saturday afternoon time-slot cannot be shown live for fear of emptying stadiums.

But ever innovative in its pursuit of new revenue streams, the Premier League has proposed staging matches on Friday nights, which has hitherto been a no-go area for the English top flight.

The current TV rights deal meant that all 20 Premier League clubs featured in the 40 biggest earners in Europe in the most recent Deloitte Money League, but with ticket prices on the rise, many fans have been left feeling short-changed.


Follow Emirates 24|7 on Google News.