Sluggish Brazil held by Venezuela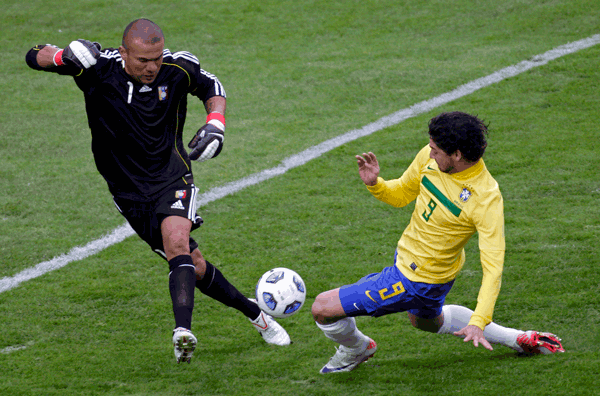 Brazil made a tame entrance into the Copa America on Sunday, missing a host of chances in a goalless draw with ultra-minnows Venezuela at the Estadio Unico in La Plata, outside Buenos Aires.
The five-times world champions had chances - Milan's Pato notably hitting the woodwork early on. But the longed-for samba football never arrived and it was soon apparent there would be no repeat of the auriverde's 7-0 thumping of the vinotinto in a 1999 group opener where Ronaldo and co ran riot.
In the other match Sunday, Paraguay and Ecuador also played to a 0-0 draw at the Brigadier General Estanislao Lopez stadium in Santa Fe.
Before Sunday, Brazil had also won all five previous meetings between the two nations in the competition, scoring 25 goals for just one conceded.
But the baseball-loving Venezuelans have come on since then by leaps and bounds and the only South American country never to make it to the World Cup finals even managed a goalless draw in Brazil during the 2010 World Cup qualifiers.
Selecao coach Mano Menezes admitted the outcome was disappointing.
"In the the first half we had chances but in the second it was different. We were generally a bit lacking - and Venezuela worked like Trojans," he admitted afterwards.
Brazil now go on to face Paraguay on Saturday in Cordoba and Menezes said that "that will be another game."
Counterpart Cesar Farias was delighted with a battling showing.
"It's historic in terms of the Copa America. Brazil played well but we deserve praise for holding them," said Farias.
"When we had the chance to play a bit we did and when we had to defend like gladiators we did that too."
Menezes sent out an attack-minded line-up, led by Santos' precocious talents Neymar and Paulo Henrique Ganso, who arrived at the event fresh from winning the Copa Libertadores, with Robinho and Pato also in the mix.
But they did not follow through and Venezuela supporters and a contingent of Argentina fans in the crowd chanted "Ole" enthusiastically whenever a burgundy-shirted Venezuela player passed the ball.
"The big teams aren't going to get an easy ride - they'll have to scrap for everything in every game, vowed Venezuela keeper Renny Vega afterwards.
Bolivia, ranked 102 in the world, had shown the way by holding Argentina in their opener and 68th-ranked Venezuela took their cue in providing another shock result.
Pato ought to have made the difference but missed with several attempts, including one which hit the bar in the first period.
But Venezuela were not to be outdone and the impressive Tomas Rincon was held up in his tracks when set for a clean run on goal as Bolivian referee Raul Orozco elected to stop play for a foul by Thiago Silva ten minutes before the break.
Brazil then were unlucky as Neymar fed Robinho but Oswaldo Vizcarrondo made a last ditch block almost on the line.
Then Ganso found Neymar but he missed the target.
The Brazilians have their eye firmly on the 2014 World Cup which they will host - yet they are also after their ninth Copa and fifth in the past six editions.
Argentina and Uruguay hold the record with 14 each.
The favourites continued to press after the break - but had a scare on 59 minutes when Salmon Rondon went down after tangling with Silva in the box.
But Orozco booked Rondon for simulation.
Menezes rolled the dice on the hour, withdrawing Robinho and sending on Fluminense's Fred.
Yet it was Venezuela who came close next as Juan Arango dragged an effort wide.
Elano and Lucas Silva came on for the tiring Pato and Ramires with 15 minutes remaining but the resolute Venezuelan defence, in which Roberto Rosales and Vizcarrondo were outstanding, held firm.
Brazil next face Paraguay and Ecuador.
Follow Emirates 24|7 on Google News.