Stamp by Real Madrid's Pepe's 'a disgrace'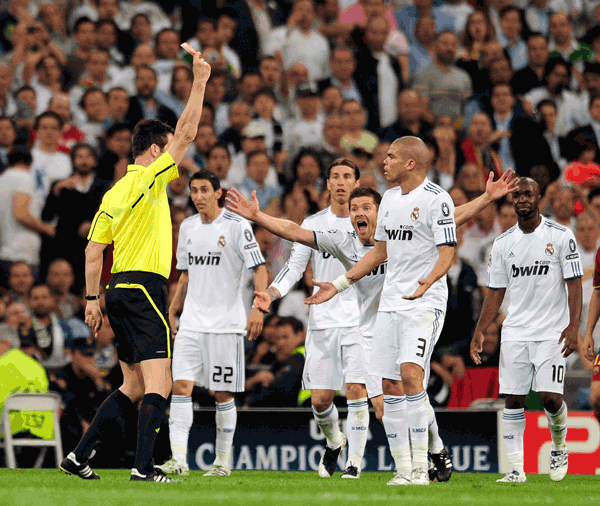 Real Madrid's Pepe was lashed as a "world disgrace" and a "public danger" by Spain's press after he stamped on Barcelona superstar Lionel Messi's hand as his team headed to a 2-1 loss.
The sporting press splashed front-page pictures of Pepe's stamp on a prostrate Messi in the Spanish Cup quarter-final in the Santiago Bernabeu on Wednesday.
"Pepe, a public danger, was the biggest exponent of an impotent and deranged Madrid," blared the Barcelona-based sports daily Mundo Deportivo under a photograph of the incident in the 69th minute.
"Heroes," the Mundo Deportivo's front page said of Barca. "Villains", it said of Madrid.
Inside, the paper showed a picture-by-picture account of the stamping incident, under the headline "World disgrace".
Madrid daily Marca, the biggest sports daily, described Pepe as "disgraceful".
"Pepe again. The Portuguese again suffered a temporary mental derangement with a treacherous stamp on the left hand of Messi while the Argentine was on the ground," Marca said.
In an opinion piece, the paper said: "Pepe's behaviour was intolerable. Violent, overly aggressive, theatrical and far from what should be the attitude of a footballer in top-class competition."
In a post-match news conference, Madrid coach Jose Mourinho said he had not seen the incident but, if intentional, he agreed with a reporter that it would be "reprehensible".
Madrid's Ricardo Carvalho, asked about Pepe's behaviour after the match, in which he played for the first time in four months, said: "Pepe is tough, but he is clean and loyal."
Follow Emirates 24|7 on Google News.