Thrashing will play on Arsenal minds, says Liverpool boss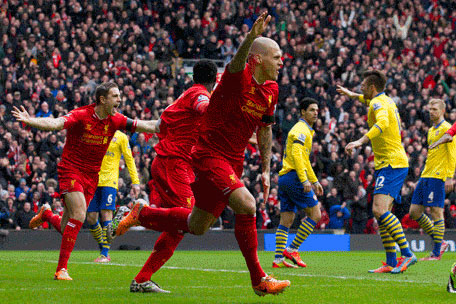 Arsenal's players will find it hard to shake the memory of their 5-1 thrashing by Liverpool last weekend when the two sides meet again in the FA Cup, the Merseyside club's manager Brendan Rodgers said on Friday.

Arsenal were taken apart in a whirlwind 20-minute spell at the start of the Premier League clash at Anfield last Saturday, but have an opportunity for immediate revenge in this Sunday's fifth-round clash at the Emirates.

"We came out of the game at the weekend with great confidence and I think when you put in a performance like we did against Arsenal, who were top of the league, it can stick in their mind that wee bit more," Rodgers told reporters.

"We were outstanding on the day and it was arguably as good a performance as you'll see. I think many people have commented on that. It's a different game, there's a new motivation for both teams and both teams will want to get through into the quarter-finals."

While Arsenal face a Champions League last-16 tie against Bayern Munich on Wednesday, Liverpool have no midweek European commitments to worry about and will field a full-strength side.

"We want to win the FA Cup. That's our objective. We've got no midweek game so we can go as strong as we wish to go," Rodgers said.

"It's probably different for Arsenal, who have a massive game after ourselves in the Champions League, so they may have to look at it differently. We won't need to rest anybody.

"We want to do it for the club. Since I've been here, we have changed the squad around in order to try and help us in the league.

"When I have made too many changes, we haven't been good enough and that's seen us go out of tournaments earlier than I would want. This year, we wanted to do well in the cup competitions - hence the reason why we've been strong.

"We want to get to Wembley, not for the semi-final, but for the final. If we're there for the final, then it gives us a chance to win it."

The game is likely to come too soon for right back Glen Johnson, however, who has returned to training after missing four weeks through injury.

"Glen Johnson is working very well. I'm not sure he'll be ready for the game this weekend, but if we can have a good week next week he'll be very close," Rodgers added.
Follow Emirates 24|7 on Google News.