Tough-talking Aussies want to 'choke' UAE in Asian Cup semifinal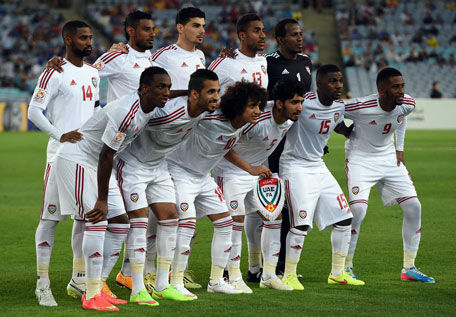 Australia have turned up the heat on the United Arab Emirates before Tuesday's Asian Cup semi-final, warning the Gulf side that they would "choke them until they're blue".

The path to a first Asian Cup title has opened up invitingly for Australia after the UAE stunned holders Japan on penalties in the last eight, and defender Trent Sainsbury predicted that the hosts will overpower the Emirates.

"I don't think the UAE has got the legs to go with us for 90 minutes," Sainsbury told reporters on Sunday. "It's just going to be quick ball movement, player movement.

"And as soon as we lose the ball, try and win it back -- try and choke them until they're blue. You have got to go for it in this game. You can't hold back."
Australia, beaten by Japan in the 2011 final, have had an extra day's rest after their 2-0 win over China in the quarter-finals.

The UAE shocked the Blue Samurai in a draining encounter on Friday in one of the biggest upsets in Asian Cup history, but the Australians have already begun the mind games before their clash on the shore in Newcastle.

Sainsbury twisted the knife, questioning the work ethic of UAE star Omar Abdulrahman and promising to "get in his face".

The shaggy-haired playmaker has been one of the players of the tournament so far, instrumental in the the UAE's victory over Japan, his cheeky dinked 'panenka' penalty underlining his outrageous talent.

"Very tidy on the ball, not the hardest worker and I think we can exploit that," was Sainsbury's verdict on Abdulrahman, warning the warning the 23-year-old could be in for a rough ride.

"He has just got that arrogance about him," said Sainsbury. "He has got the cheekiness to chuck in a nutmeg here and there and he's a very quick thinker on the ball.

"If we can get in his face and not let him get his head up, hopefully we can stop him. If we can keep him facing their goal, then he's not going to be able to face forward and play that killer ball."

With an injury-ravaged South Korea or an Iraq side shattered after their emotional penalty shoot-out victory over Iran awaiting in the final, the Australians are now the hot title favourites.

"We are going to go out there and give 100 percent," said Sainsbury. "We have got a massive opportunity to change the way people look at football in Australia and the boys know the importance of it."
Follow Emirates 24|7 on Google News.