UK commentator rapped over Suarez 'cheat' slur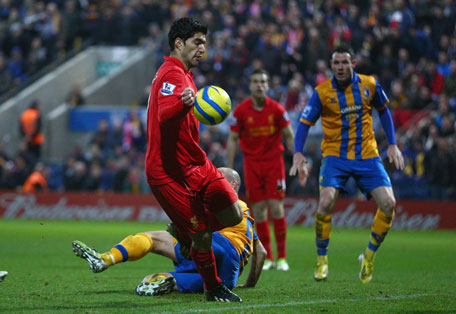 ESPN has reprimanded one of its UK television commentators after he called Uruguayan striker Luis Suarez a "cheat" during Liverpool's FA Cup third round win at minor league Mansfield Town.

The broadcaster issued a statement on Monday as controversy raged over a handball by Suarez in scoring what turned out to be Liverpool's winning goal in the 2-1 victory on Sunday.

"ESPN's editorial policy is for commentators to be unbiased and honest, to call things as they see them. Inevitably this can involve treading a fine line on occasion, especially in the heat of the moment," a spokesman said.

"Comments during the Mansfield v Liverpool match caused offence where none was intended and we have spoken to our commentator about this incident."

Commentator Jon Champion told viewers as a replay showed the handball: "That, I'm afraid, is the work of a cheat."

Liverpool manager Brendan Rodgers defended the player afterwards, saying it had been an accidental touch and the fault was with the match officials.

Suarez is no stranger to controversy on the pitch after a string of incidents.

Follow Emirates 24|7 on Google News.