US, Mexico and Canada announce 2026 World Cup bid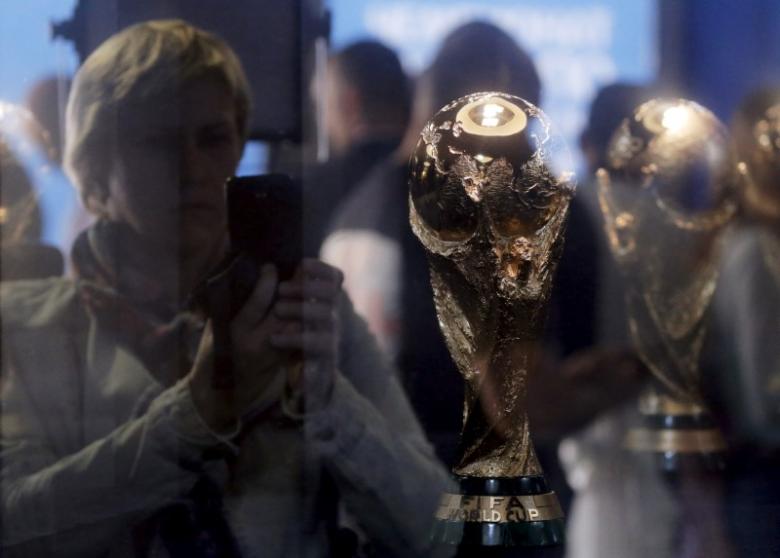 The United States, Mexico and Canada announced on Monday that they were making a joint bid to host the 2026 World Cup, which the U.S. soccer chief said would produce the biggest financial boon ever for FIFA.
No nation from CONCACAF, the governing body for soccer in North and Central America and the Caribbean, has hosted the tournament since the United States in 1994.
The 2018 World Cup will be in Russia, while Qatar hosts the event in 2022. The bidding process for the 2026 tournament is expected to begin later this year and to run until 2020.
"We announce our bid to bring the World Cup back to the United States, to Canada and Mexico in 2026," U.S. Soccer president Sunil Gulati told a news conference in the 102nd floor observatory of the World Trade Center in lower Manhattan.
"We look forward to welcoming the world after what we hope is a successful bid."
Gulati said the initial plan was for 60 of the 80 World Cup games to be played in the U.S., with Canada and Mexico hosting 10 each. All matches from the quarter-finals onwards would be in the U.S.
Asked whether Mexico in particular, which hosted the World Cup in 1970 and 1986, wanted to hold more matches, Gulati said: "I think it's safe to say both countries would have liked to host more. In the end, it was a discussion, a negotiation, but a very friendly one."
Following the presentation, Gulati, Mexican federation president Decio de Maria and Canada Soccer Association president Victor Montagliani, who is also CONCACAF president, signed a memorandum of understanding to join forces in the bid.
The CONCACAF region is widely viewed as favorite to win the 2026 World Cup, given FIFA rules that restrict Europe and Asia from hosting again so quickly. FIFA is soccer's world governing body.
Africa, whose only World Cup was in South Africa in 2010, however, would be able to bid and Morocco is the most likely candidate. Newly elected president of the Confederation of African Football (CAF) Ahmad Ahmad has said he would back such an effort.
Some reports have suggested that Morocco, which failed in bids for four previous World Cups, could team up with Spain and possibly Portugal in a joint bid.
But Gulati touted the financial clout of the North American bid.
"A World Cup in North America, with 60 games in the United States will be by far the most successful World Cup in the history of FIFA in terms of economics," he said.
"We've got 500 million people in these three countries. This will be an extraordinarily successful World Cup on financial and economic grounds."
TRUMP'S BLESSING
As for whether U.S. President Donald Trump's plan for a border wall to stem illegal immigration from Mexico was a hurdle, Gulati said Trump encouraged the bid and that the joint effort required and won support from the governments of all three countries.
"We outlined through someone who was communicating directly with the president what we wanted to do, and the message we got back was that the president encouraged us to go forward ... said he was supportive of it and very pleased that Mexico was a part of it," the U.S. soccer head said.
"To have governmental support is a critical part of a bid."
Follow Emirates 24|7 on Google News.