Will Arsenal get 'Real' on Wenger-Mourinho swap?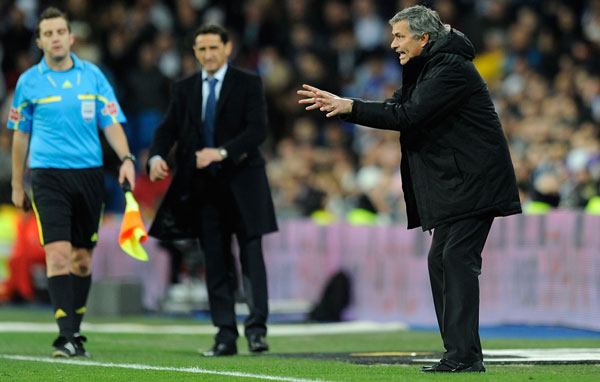 It may involve a shuffling of five or six of the best managers in club football today, but the die may have been cast for The Special One – Jose Mourinho to return to England.
According to a report in the Sunday Times, Mourinho has made up his mind to return to England next season, even if he wins the La Liga title (which he is in prime position to do) and the elusive Champions League title for Real Madrid.
Quoting a close friend of Mourinho, the report said he is fed up of the situation at Madrid – with reports of him having a bust up with senior players in the club.
The question then is to which England club will Mourinho go?
Surely it will be a top five club – which means Manchester City, Manchester United, Tottenham Hotspur, Chelsea or Arsenal.
Sir Alex Ferguson has rule out retirement for now, which rules out United for not for Mourinho.
Roberto Mancini will need to win the Premier League to ensure his survival, but a top four finish for City might just buy him another year at the big spending club.
It's unlikely Mourinho will want to go back to Chelsea, or that Chelsea owner Roman Abramovich will want him back – the reconstruction of Chelsea under Andre Villas-Boas seems to have already begun.
Harry Redknapp in court or not has done such a superb job with Spurs that it would be unthinkable to think of removing him from there – except for an exceptional situation arising from the probe into his tax evasion.
Which only leaves Arsenal.
Arsene Wenger has a tortourous and tormented season so far, having to deal with a loss of faith in his tactics for the first time in years by the Arsenal fans.
Rumours last week that he was on a Real Madrid short-list as a Mourinho replacement now take on a whole different hue given today's report on Mourinho's return to England.
A Wenger-Mourinho switch, as Arsenal-Real Madrid managers seems to be the most plausible.
There are many who feel Wenger's time at Arsenal is done and will look to a steely character like Mourinho to bring back the trophies to the Emirates stadium.
As clubs get down to the business end of the season, this one can go on the back burner for now – but, watch this space.
Follow Emirates 24|7 on Google News.