Wilshere's progress excites Arsenal's Wenger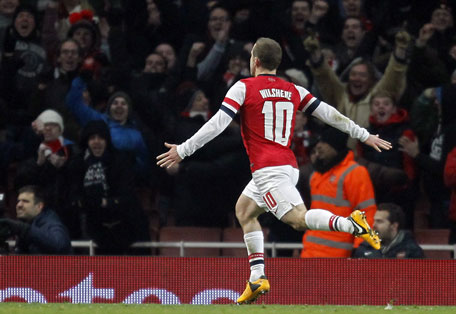 Arsenal manager Arsene Wenger believes Jack Wilshere is well on the way to becoming the complete midfielder after his goal knocked Swansea City out of the FA Cup on Wednesday.

The 21-year-old England international scored the only goal of a 1-0 win four minutes before the end of a third round replay at the Emirates Stadium.

Wenger had deployed Wilshere in a central attacking role instead of his usual deeper, more defensive position and was rewarded with an outstanding performance as well as the goal.

"Jack played in a different position tonight, a bit higher up and it suited him," Wenger said. "There was a better team balance.

"A complete midfielder can defend and attack and Jack can also dribble and give a final ball so the closer players like him are to the goal the better it is for them," the Frenchman added.

"He has quality and enthusiasm - and a love for the game, which is the most important thing for me."

Wilshere has only been a member of the Arsenal first team pool for just over three months as his career was put on hold for nearly a year-and-a-half by serious injuries to first an ankle and then a knee.

Wenger admitted he had been astonished how quickly Wilshere had been able to resume where he had left off, having been capped by England while a teenager.

"I had no experience of a player who had been out for 17 months in my whole career - I didn't expect him to be this good at this stage," Wenger said.

"I always thought that if we could get Jack back to a reasonable level by January 1 we will have done well but he is ahead of what I could imagine. He is back to what he was before the injury, I think so, yes."

Swansea are still involved in the League Cup and will reach the final of that competition next week if they can avoid a two-goal defeat at home to Chelsea in the second leg of the semis.

Michael Laudrup, the Swansea manager, was disappointed his side had been beaten so late in the game but conceded Wilshere's goal had been worthy of winning the match.

The Denmark great nevertheless counselled against expecting too much, too soon from such a young player.

"We are talking a young player who had an injury, is coming back, and has great potential," Laudrup said.
"At the same time I don't think we need to push our young players too much. I think sometimes people are a little too fast, too quick with the big words.

"We have to let them grow as young players can improve. That goes for Jack Wilshere as well. He has to improve, and don't put that pressure on him; that he has to be a superstar already in a few months.

"To be a world-class player you need more seasons at the highest level. You play 40 or 50 games; it is not enough to call you a world-class player.

"Maybe you can become it one day, but if we are talking about a 21-year-old and we are putting him up there already amongst the best, then where do we put (Cristiano) Ronaldo and (Lionel) Messi?"

Wilshere certainly enjoyed a more productive match than England colleague Theo Walcott, who was removed from his favoured central strike position and went on to squander several chances.

The 23-year-old has still not agreed a new deal that will prevent him becoming a free agent at the end of the season but Wenger was confident the former Southampton man would eventually sign another Arsenal contract.

"I hope it will be soon - very, very soon now," he said. "I cannot tell you much more."


Follow Emirates 24|7 on Google News.