Gatlin, U.S. romp to victory on night of miscues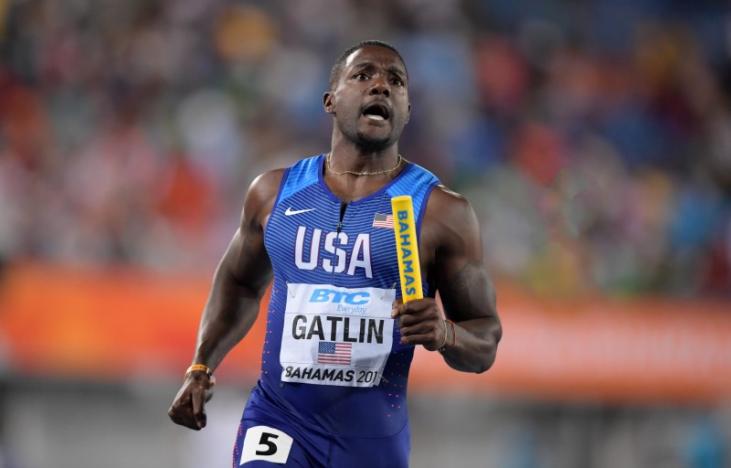 Justin Gatlin and the United States roared to victory in the men's 4x100m relay as rivals Canada and Jamaica dropped batons at the IAAF World Relays in the Bahamas on Saturday.
Run down by Canadian Olympic medallist Andre De Grasse in the earlier heats, Gatlin romped home in the final, leading the U.S. team of Leshon Collins, Mike Rodgers and Ronnie Baker to victory in 38.43 seconds.
"It's all about execution, not about superior speed," the 35-year old Olympic 100 metres silver medallist told reporters.
"Britain and Canada didn't get the stick off (in the final) so I am running with 20 metres to the finish line wondering 'Hey, where is everybody at."
Barbados claimed the silver and China surprised by taking the bronze.
Australia finished fourth ahead of France as both joined the medallists in qualifying for the IAAF world championships in August.
DeGrasse, who many have labelled as retiring Jamaican record holder Usain Bolt's likely successor, never had a chance to replicate his first-round showing.
Team mate Aaron Brown briefly got the baton to Brendan Rodney on the second exchange before the stick slipped away.
Britain, who ran well until problems on the last exchange, and the Netherlands also failed to finish the race.
Olympic champions Jamaica were not even in the final.
A botched baton exchange in the heats sent packing the Jamaicans, who were running without both Bolt and former 100m world record holder Asafa Powell.
Only once before since 2008 had Jamaica failed to claim gold in a global 4x100m race.
Their women made up some of the disappointment in the women's 4x200m with double Olympic champion Elaine Thompson leading them home in a championship record 1:29.04.
Germany beat out the United States for second.
The Americans were first in the women's 4x800m, dominating in 8:16.36. That was more than three seconds ahead of Belarus with Australia third.
In qualifying, Trinidad and Tobago's men (3:02.51) and the U.S. women (3:29.27) led advancers in the 4x400m.
The relays conclude on Sunday with the top eight finishers in the 4x100m and 4x400m for men and women automatically qualifying for the IAAF world championships.
Follow Emirates 24|7 on Google News.