After Tiger test, McIlroy defends landmark title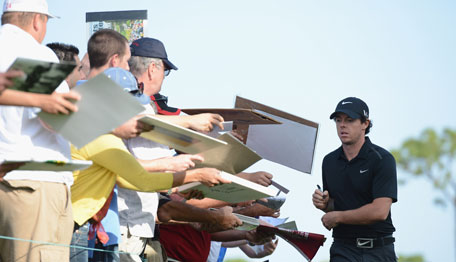 Rory McIlroy, fresh off a private one-on-one match-play showdown with Tiger Woods, starts defending the Honda Classic title on Thursday, a win that first put him atop the rankings.

Northern Ireland's McIlroy held off a closing charge by Woods last year to claim the $6 million US PGA Tour event, which launched him to World No. 1 for the first time.

After falling behind England's Luke Donald, McIlroy took possession of the top ranking with a victory at the PGA Championship last August and has been World No. 1 ever since.

McIlroy has had a disappointing start to the 2013 season, missing the cut in his January debut in Abu Dhabi and losing in the first round at last week's World Golf Championships Match Play Championship.

World No. 2 Woods also lost in his WGC opener, prompting golf's most popular stars to book a private date last Sunday at Medalist, a nearby course where Woods is a member.

"We were kind of hoping it wouldn't be that Sunday, but we were both free," Woods said.

Woods won the first 18-hole match and McIlroy took the second in what he described as "speed golf" on a course he had never played before.

"We thought we would play our own match-play final," McIlroy said. "We played quick. He putts with the pin in. It was good. It was really enjoyable."

With exchanges of text messages, McIlroy has tried to learn from 14-time Major champion Woods, who will resume his pursuit of the record 18 majors won by Jack Nicklaus at the Masters in April.

Woods fired a final-round 62 last year but still could not catch McIlroy, who says he is less concerned about a switch in equipment than he is working on his own swing.

"It's more about how I'm swinging the club. That's the real concern," McIlroy said. "It was a little bit mental but it was more physical."

McIlroy also figures he has plenty of time to pull his game into peak form.

"I'm only two tournaments into the season," McIlroy said. "I've still got 20 more."

McIlroy is paired with South Africa's Ernie Els, the reigning British Open champion, and American Mark Wilson for the first two rounds.

Woods, who won his first US PGA event of the season at Torrey Pines after missing the cut at Abu Dhabi as well, will play alongside fellow American Dustin Johnson and Germany's Martin Kaymer.


Follow Emirates 24|7 on Google News.