Big guns set to fire at Dubai Desert Classic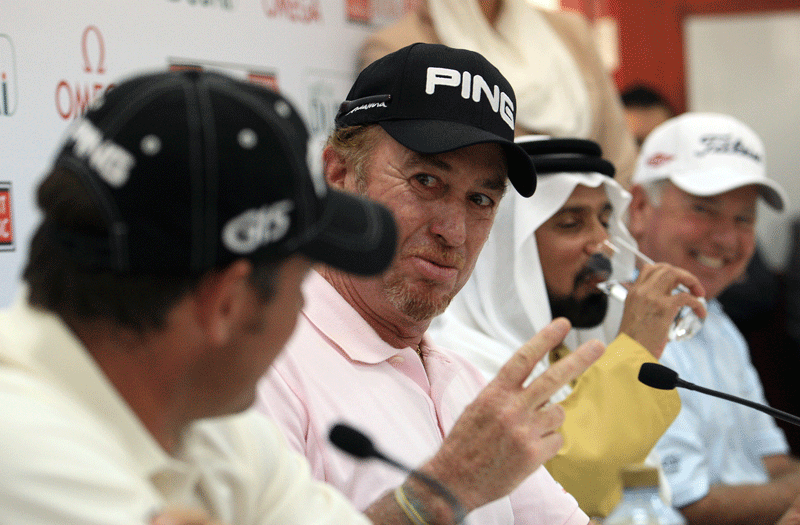 World number one Lee Westwood, number two Martin Kaymer and number three Tiger Woods go head-to-head in the first two rounds of the Omega Dubai Desert Classic in what promises to be an absorbing battle in the sun when the European Tour event gets under way at the Emirates Golf Club on Thursday.
"It's a fantastic draw for the tournament and for people watching," said Westwood who overtook Woods last year. "I think that's what people like to see. Certainly at other events where you draw the three Major champions together in the PGA Championship, that's always exciting, and at the US Open, with the top three in the world. But I don't think it's ever happened on The European Tour," said the 39-year-old from England.
Germany's Kaymer, who has a chance to become the world's number one player this week, is also relishing the chance of playing in the marquee grouping. "I've never played with Tiger Woods before," he said. "Of course I've met him but I don't know how it is to play with him, so it will be nice.
"It will be great for the tournament, having the top three playing on Thursday and Friday. So I look forward to it," said the Kaymer at the official press conference held to launch the tournament.
Mohamed Juma Buamaim, vice-chairman and CEO of golf in Dubai, who formally launched the tournament at a press conference in the presence of defending champion Miguel Angel Jiménez, the 2004 champion Mark O'Meara and the top three players, said: "Never before in the history of golf in the Middle East, the top three golfers in the world rankings have entered a tournament and that reflects on the profile of the event on the global stage."
All the players at the conference wanted to see Tiger return to winning ways. "It's in his DNA to win golf tournaments and play and compete," said O'Meara. "Tiger has been great for the game. He's brought a tremendous amount of excitement, a lot of notoriety to the game that maybe 12, 15 years ago was not there, and so relatively, everybody has benefitted from that, himself included.
"When Tiger plays well, all of us I'm not a huge historian of the game, but yet, I'm a big Tiger fan and what he's accomplished in the game has been tremendous. And it's good for golf when Tiger plays well, so hopefully this year will be a good year for him.
"He's just way too great of an athlete not to get back closer to where he once was. Is he going to dominate like he did? Maybe yes. Maybe no. Probably not because the other players have all stepped up their games a lot, and that had to happen.
"I just think that when he plays golf well, all eyes are still paying attention to what Tiger does. He's got an opportunity to catch Jack (Nicklaus). He's got four Major championships to go to tie his record. You know, he's not getting any younger. He knows that. And so he's going to focus as hard as he can on trying to get back to a level that he would like to be at contending and winning tournaments."
Westwood agreed. "Well, we all know he hasn't played at his best recently for various reasons, but one thing we all know - class is permanent," said the world number one who has joined an elite group of golfers by being awarded honorary life membership of the European Tour on the back of a momentous season in 2010 when he replaced Woods as the new world No 1.
"When I'm not playing a tournament and I'm watching, say, somewhere in the States, I'm watching how Tiger is playing," the No. 1-ranked Westwood said. "I'm seeing if he's playing well. He's exciting to watch for everybody."
Declared Kaymer: "Tiger is the best player in the game. We just hope that he comes back to his form the way he was because, yes now at the moment, Lee and me, we are No. 1 and 2. But in every golfer's mind, he (Woods) is still the best player in the world and it would be fantastic if he can get back to where he was again so then we can challenge him."
Defending champion Miguel Angel Jimenez sounded confident of defending his title. "I feel good every year to come here – and that will be a good point to start. Last year, I had a fantastic start and I hope it will go the same way."
Follow Emirates 24|7 on Google News.