Dubai Schools Golf League takes flight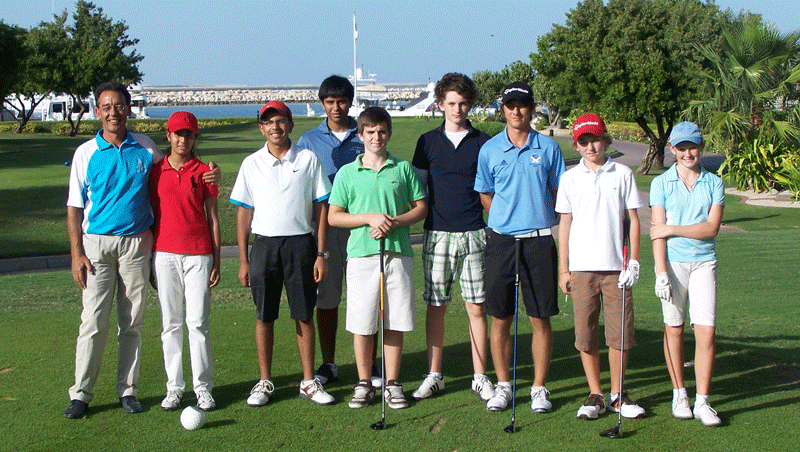 Dubai American Academy rode on a superb team performance to win the first event of the Dubai Schools Golf League when they defeated Dubai College at Jebel Ali Golf Resort and Spa.
With each member of the team making a useful contribution to the total, Dubai American Academy carded 164 points to take the honours, just five points ahead of their equally-impressive opponents.
Chris Fransson (47 points), Diya Chopra (42), Katy Rutherford (36) and Sanjit Chakravarty (39) played some solid tee-to-green golf for the winners while Daniel Hendry (38), Conor Seabrook (45), Henry Turpie (38) and Rahul Dungarwal (38) excelled for Dubai College.
Rahul Dungarwal won the best individual prize for Dubai College on a countback with 38 points while Katy Rutherford (36) was adjudged the best individual for Dubai American Academy.
Organised by Diya Chopra, the first tournament of the league could well be the springboard for a major inter-school tournament which the young golfing enthusiast plans to start this year.
"There is no dearth of enthusiasm for golf among juniors, thanks to Emirates Golf Federation's Junior Development Programme, but we also need an inter-school tournament to create more playing opportunities for these youngsters," said Diya.
"Golf is the only sport that I know where players of different age groups and levels can play together and there is this sense of camaraderie on the course. That is exactly what happened in our first tournament," said Diya.
"There were two girls and six boys, aged between 11 and 17, and also the handicaps ranged from plus three (Dubai's best junior golfer Daniel Hendry) to a 20," she said.
She thanked Jebel Ali Golf Resort and Spa for hosting the tournament and providing complimentary tee times. "The tournament would not have been possible without the support of Chris Vallender (EGF), Tariq Baker of the Dutco Group, James Williams (Jebel Ali Golf Resort and Spa), Stuart McMurdo (Jebel Ali Golf Resort and Spa) and Jodi O'Reilly (athletic director of Dubai American Academy)," she said.
Diya is planning to have three more tournaments by April 2011. Interested schools who have a team of at least four players with valid handicaps (boys maximum- 28 and girls maximum- 36) may contact her at
diyachops@hotmail.com
.
Follow Emirates 24|7 on Google News.