Fun for entire family at Abu Dhabi golf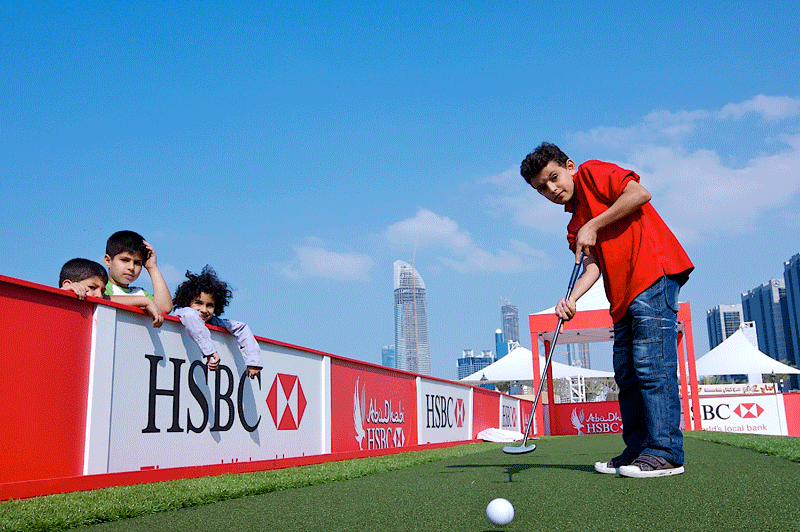 Whether you are an avid golf fan or completely new to the game, spectators at this year's Abu Dhabi HSBC Golf Championship will enjoy the most exciting tournament experience to feature in the Middle East with the introduction of the HSBC Interactive Village.
Rivalling the on-course action, the new addition to the Abu Dhabi Tourism Authority's (ADTA) Championship Village sees a fantastic range of sporting activities including golf, tennis, cricket, rugby, karting and horse racing, offered to all visitors with free coaching from some of the greatest names in sport as part of an unforgettable family day out.
British tennis hero Tim Henman, former New Zealand cricket captain Chris Cairns and international rugby legends Gavin Hastings and Jonathan Davies, will encourage a new generation of sporting stars by conducting coaching clinics from 11.30am to 1pm on Friday, Saturday and Sunday of the tournament.
Open daily and free to all spectators at the tournament at the Abu Dhabi Golf Club, the interactive area also gives all ages and abilities the chance to pick up a club for the first time or test skills across a host of HSBC golfing challenges.
Simon Cooper, the CEO of HSBC Middle East and North Africa said: "Watching the world's best golfers close up in the flesh we all get that itch to play, but it's especially true for children. That's why we've brought the HSBC Interactive Village to the tournament."
"We've taken the best parts of the Spectator Villages we create for the WGC-HSBC Champions in Shanghai and the HSBC Women's Champions in Singapore, which many in the golf industry believe to be the best in the world, and we've brought them here to give every spectator the opportunity to have an exceptional experience," he added.
During the build-up to the championship as part of HSBC's commitment to help grow golf from the grassroots in the UAE, the world's local bank successfully took golf into the local community to a new generation who would not otherwise have the chance to try golf. Already thousands of young people have taken their first swings through the hugely successful HSBC Interactive Zone on Abu Dhabi Corniche, with thousands more expected to do so at the tournament itself.
A further exciting innovation HSBC has introduced to spread the championship spirit and involve the local community sees HSBC customers to experience the Championship for free, simply by presenting their HSBC bank or credit cards at the entrance on Thursday and Sunday.
Tickets are available via the event's official website, www.abudhabihsbcgolfchampionship.com, as well as online at www.timeouttickets.com and www.itptickets.com. Phone bookings can be made through the ITP toll-free hotline 800 4669, or for international visitors, +971 4 210 8943.
Follow Emirates 24|7 on Google News.