Golfer McIlroy is the new face of Nike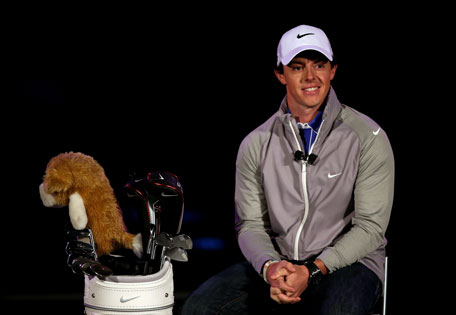 World No.1 golfer Rory McIlroy is set to become the hottest property in the sporting world after confirmation of multi-year sponsorship deal with Nike on Monday.

The two-time Major winner from Northern Ireland joins Tiger Woods for the Texas-based sports giant, who now have arguably the two biggest names in golf in their bag.



Music blaring, his image part of a water fountain hologram and with the Sheikh Zayed Mosque as background, McIlroy was unveiled as Nike's brand ambassador to the world's media at Fairmont Bab Al Bahr hotel in Abu Dhabi.

Although details of the mega deal were not disclosed, it is expected to be a 10-year contract which could net the 23-year-old somewhere between $200-250 million if he keeps on winning Majors.

McIlroy will use Nike's full range of clubs, balls, clothing and accessories, with the clubs used competitively for the first time in the Abu Dhabi HSBC Championship which gets underway on Thursday.

Nike Golf president Cindy Davis called it a "significant moment for our brand and our golf business, and for the career of an extraordinary young athlete."

She refused to discuss details of McIlroy's contract, including whether there were any "behaviour" clauses given previous problems with Nike athletes Woods and Lance Armstrong.

"He is the epitome of a Nike athlete and he is joining our team during the most exciting time in Nike Golf's history. We are looking forward to partnering with him to take his remarkable career to the next level," she added.

"I chose Nike for a number of reasons," said McIlroy. "It's a company and a brand that really resonates with me. It's young. It's athletic. It's innovative. They are committed to being the best, as am I."

McIlroy started testing his new clubs at the Nike factory in Texas late last year and says the transition from his former Titleist equipment has been seamless.

"I was blown away by the research and development that went in, and I'm really excited about the equipment. I'm really confident in the equipment and excited to put it in play this week," he said.

"I feel like I've transitioned seamlessly from one thing to another. I'm really comfortable with all of the clubs. I'm getting more distance out of the driver and the ball. I'm comfortable with the irons, everything has fallen into place. I'm excited to put the clubs in play," he added.

"Nike has always been associated with the best athletes in the world and to join the likes of Tiger Woods, Roger Federer, LeBron James … it's a proud moment for me and something I've been looking forward to," said McIlroy, a boy wonder who was the world Under 10 champion in 1998.

He turned professional in 2007, two months after finishing as the leading amateur in The Open at Carnoustie.

Last year, McIlroy won his second Major - adding the PGA Championship to the US Open title he won the year before - while also becoming world No. 1 for the first time.

"Last year was a big year," he told the audience in Abu Dhabi. "This year, I think I can go to a new level. I'm practicing as hard as ever, with the best company behind me, and hopefully I can win more Majors."

He played downs concerns expressed by the likes of Nick Faldo about the change of clubs when asked whether he was motivated by lure of riches.

"I don't play golf for the money, I am well past that," said McIlroy.

"At the end of 2013, if I have not won another major I will be disappointed."

As part of the presentation, McIlroy was "welcomed" to the Nike family in video tributes from England and Manchester United soccer star Wayne Rooney, Swiss tennis great Roger Federer and Woods.

And a commercial titled "No Cup is Safe" that will star McIlroy and Woods that will first air Wednesday was unveiled.

In the spot, the two are trying to outdo each other on the driving range, with plenty of barbs going back and forth.

They are expected to be grouped together for the first two rounds of the Abu Dhabi tournament starting Thursday.





Follow Emirates 24|7 on Google News.