Mickelson storms home for six-stroke Phoenix lead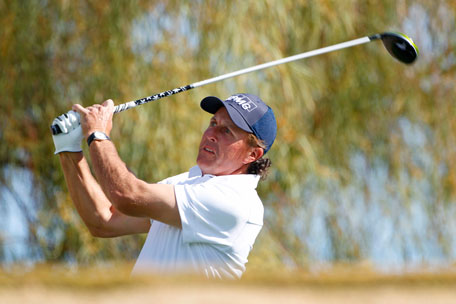 Phil Mickelson birdied the last four holes to fire a seven-under 64 Saturday, grabbing a six-stroke lead at the the Phoenix Open with the second-lowest 54-hole score in US PGA Tour history.

Mickelson, who flirted with a 59 before settling for a first-round 60 and carded a second-round 65 that was marred by a double bogey at 18, had no late lapse in Saturday's third round of the $6.2 million event.

After two birdies on the front nine, he added another at the 13th, then stormed in with four birdies, one by going up and down at the par-5 15th and another on the stadium-like par-3 16th with a tee shot less than three feet from the cup.

"Your adrenaline is going there so I always take five yards off the distance and I just hit a hard 9-iron," Mickelson said. "It turned out pretty good."

His 24-under par total of 189 matched the 54-hole tournament record set by Mark Calcavecchia in 2001 and put him six strokes in front of fellow American Brandt Snedeker, who had six birdies in firing a 65 to stand second.

"You need to shoot pretty low if you want to catch Phil," Snedeker said.

If Mickelson can fire another 64 or lower at TPC Scottsdale, he will break the record for the lowest 72-hole score in PGA history, the 26-under par 254 by Tommy Armour III at the 2003 Texas Open.

The only lower 54-hole score in PGA history was the 188 produced by American Steve Stricker at the 2010 John Deere Classic.

The 42-year-old left-hander, a winner of 40 career PGA titles including three Masters green jackets, seeks his first title since last year's Pebble Beach National Pro-Am, a crown he will defend next week.

Mickelson was well left off the tee at the 18th but with a clear line to the green and landed his approach 15 feet from the cup then sank his birdie putt.

"I blocked it left, but you have a good angle in and given that the pin is back right tomorrow, there's a good chance I'll be there again tomorrow," he said.

The third-round crowd of 179,022 broke last year's tournament record crowd, also from the third round, by 5,812 people.

Three-time Major winner Padraig Harrington climbed up the leaderboard with an eight-under 63 for 197, tied with American Ryan Moore (65).

Harrington's round included seven birdies and an eagle at the par-five 15th, where he bombed his drive 333 yards and his approach left him a nine-footer.

The Irishman, who started the nine shots off the pace, got hot early with birdies at the first three holes and another at the fifth.

"I felt good about my game," Harrington said. "I birdied four of the first five holes. I created a lot of chances after that all the way through.

"I could look at it and say I should have made a few more, but there's a lot of good things in my game. I saw a lot of positive things about it. When you're seeing that you're prepared to be a little more patient."

After nabbing his eagle, Harrington got into the spirit of things at the par-three 16th, drop-kicking a few American footballs into the large and raucous crowd.

"It was the first time I kicked an American football but I've kicked a lot of balls in my time," Harrington said. "I got the last one sweet and kicked it over the grandstands."

Follow Emirates 24|7 on Google News.